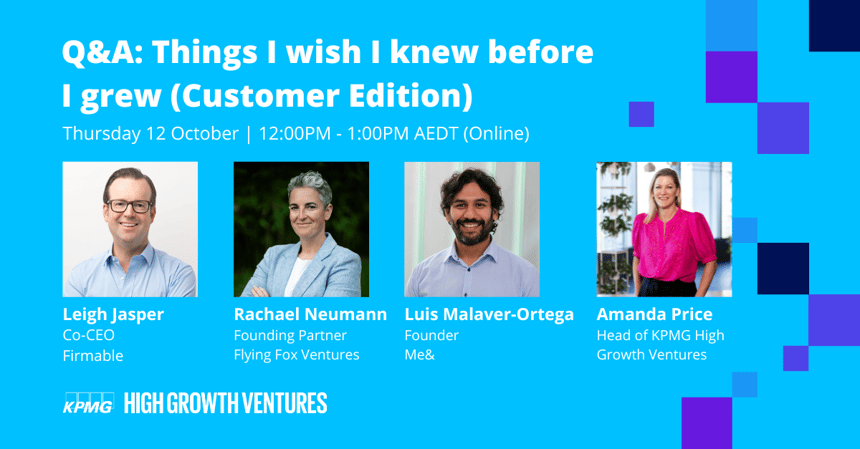 Time & Location
Thursday 12 October, 12:00PM - 1:00PM AEDT (Online).
Who should attend?
Every founder. The customer is the lifeblood of startups at every stage of growth - so whether you're raising your next round of capital or you're finding product-market fit, you'll find something to take away from this Q&A.
Event description
"Everything else, including in particular fundraising, is a function of how well you understand your customer problem." - Michael Batko, CEO at Startmate
No matter what stage you're at in your startup, when you all strip it back, everything a startup does is focused on solving a problem for a specific set of people. But finding that set of people, communicating the value of your idea, and getting them to use your product or service is fraught with complexity.
Mistakes are inevitable in this journey. But there are some mistakes you have to make - and some that make you go "I wish I knew that earlier".
That's why we're putting the customer front and centre of the second instalment of our 'Things I wish I knew before I grew' series.
In this Q&A, we speak to Leigh Jasper, Co-CEO and Co-Founder of Firmable; Rachael Neumann, Founding Partner of Flying Fox Ventures and former Managing Director of Eventbrite, and Luis Malaver-Ortega, Scientist and Founder of Me& about what they wish they knew before they acquired their first, hundredth, thousandth, or even millionth customer.

You'll walk away with insights on how to improve product-market fit, how to build a customer-centric business, how to navigate the challenges of balancing customer acquisition with product development, and more.
Our PANELLISTS

Leigh Jasper, Co-CEO of Firmable.

Leigh co-founded Aconex, the world's most widely used cloud collaboration platform for managing construction projects. As CEO, he led the company from founding, through multiple capital raisings, to an Initial Public Offering (IPO) and company sale to Oracle Ltd for $1.6 billion in 2018.

Leigh grew Aconex to over $200 million in revenue, employing 850 staff across operations in 50 cities around the world, in Australia, Asia, the Middle East, Europe, South America and North America. Leigh worked in the Melbourne, San Francisco and Paris offices of Aconex. Prior to founding Aconex, Leigh worked in management consulting with McKinsey and Company. Leigh is the Chair of LaunchVic and Second Quarter Ventures and Co-Founder/CEO of Firmable, Director at SEEK Ltd, Buildxact and Payapps.



Rachael Neumann, Founding Partner of Flying Fox Ventures. Rachael is the Founding Partner at Flying Fox Ventures, an early-stage venture capital firm propelling Australian & New Zealand companies across the globe. Over her career, Rachael has worked with thousands of early-stage startups around the globe as Head of Startups for Amazon Web Services ANZ, a Partner at Startmate, and in her two Federal Government appointments distributing commercialization and scale funding to early-stage Australian companies.
Luis Malaver-Ortega, Founder of Me&.

Dr. Luis Malaver-Ortega is the co-founder and co-CEO of Me&, bringing a wealth of expertise as a cell and molecular biologist with over 18 years of experience in the biotech field. After several appointments at CSIRO, the Australian Institute for Bioengineering and Nanotechnology (AIBN), The Monash Institute of Pharmaceutical Sciences (MIPS), The Hudson Institute of Medical Research; he is currently serving as honorary Research Fellow at the Department of molecular and translational science in Monash while he directs the R&D pipelines for the company.



Register now
Registrations for this event have now closed.