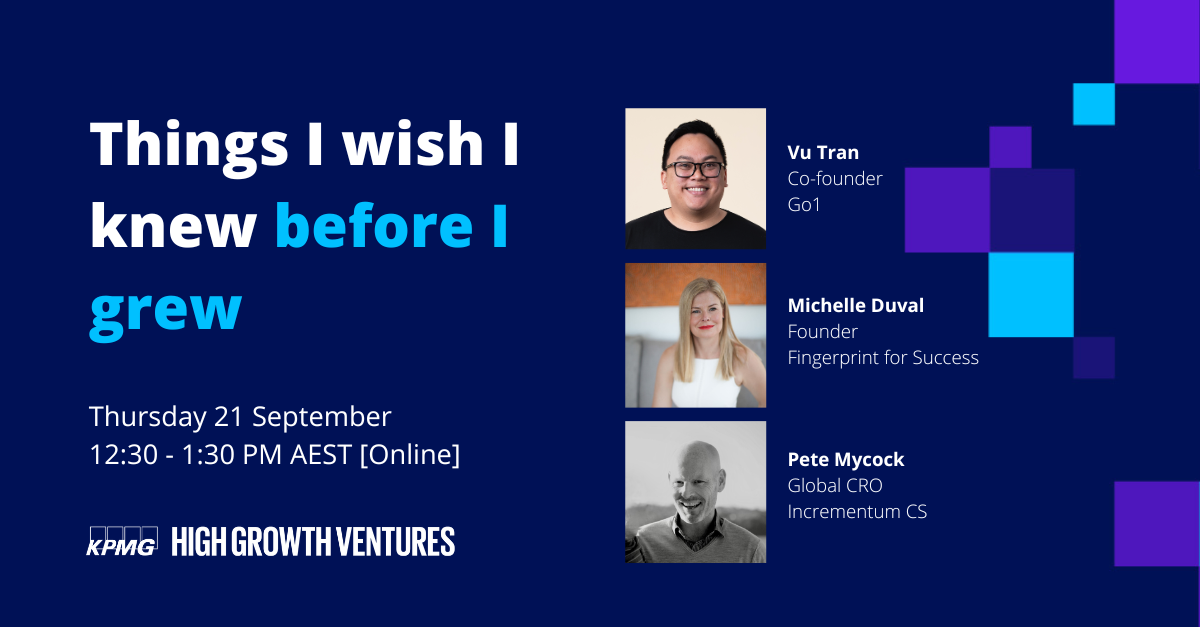 Time & Location
Thursday 21 September, 12:30PM - 1:30PM AEST (Online).
Who should attend?
Founders at the cusp of growth. Whether you're raising for your next milestone, scaling after receiving funding, or expanding your company overseas, this event is for you.
Event description
One of the most frequent expressions that we hear founders say is "I wish I knew".

I wish I knew never to spend investor money until the cheque clears (even if the documents are signed).
I wish I knew that I had to commit to relocating before I expanded my business to the US.
I wish I knew that I should have focused on the operating model rather than my product after my Series A.

…and the list goes on.

Mistakes are inevitable, but if you can learn from someone else's, you'll shave years off the learning curve and avoid costly issues down the line. That's why in this series, we're opening the floor up to founders to pass on their experiences on the one thing THEY wish they knew before they grew.
Hear from Vu Tran, co-founder of Go1; Michelle Duval, Founder & CEO of Fingerprint for Success; and Pete Mycock, Global CRO at Incrementum CS on what they would do differently as they grew and scaled their business.
Our PANELLISTS
Vu Tran, co-founder of Go1.

Vu Tran is a cofounder of Go1, a proudly Logan and indeed Queensland founded and headquartered Edu-tech start-up which has grown from a team of four to a team of almost 1,000 people across 22 countries globally. With a mission to help businesses unlock positive potential in their people through a love of learning, Go1 is the world's largest aggregator of workplace skills training providing a library of over 100,000 courses to employees across over 5,000 businesses and organisations. Vu is also a practicing medical doctor still working and seeing patients as a general practitioner.

Michelle Duval, Founder & CEO of Fingerprint for Success. Michelle is a pioneer into new forms of learning and helped found the field of professional coaching. She has authored several handbooks, and developed coaching psychology change models used by people leaders and coaches globally. Frustrated by the disparity in access - typically only the elite, or existing high performers - Michelle launched Fingerprint for Success (F4S), making collaboration and high performance accessible and available to everyone!
Pete Mycock, Global CRO, Incrementum CS. As an executive leader building and driving accelerated growth in venture backed companies in global markets for the past few decades, Pete has unique insights of how organisations can successfully scale their sales, customer success and marketing teams. As a consultant or board observer, Pete has advised across a number of different sectors including SaaS, ecommerce and AI. He has industry expertise in finance, telecoms, retail, travel and digital content. Prior to his consulting business Pete was CRO for a global SaaS technology business where he was responsible for the strategy, operations, team building and revenue growth for APAC and USA.

Register now
Registrations for this event have now closed.