Founder, farmer, lawyer, mum, advisor, board member, mentor.
Emma Weston is many things, but it's undeniable to say that first and foremost, she's a force for change.
Together with co-founders Bob McKay and Ben Reid, Emma is solving age-old problems of efficiency and transparency in the agriculture sector with AgriDigital. An agtech company on a mission to digitise the grain supply chain from farmer through to consumer, AgriDigital uses a suite of digital and cloud technologies to power global agriculture supply chains by connecting data, inventory and finance in one place.
With more than 11,600 customers globally (and counting), AgriDigital is rewriting the future of the farming industry with its solutions. We spoke with Emma about AgriDigital's game-changing platform, her experiences founding and scaling the business, and what's next for AgriDigital in 2023 and beyond.


The single grain of truth
AgriDigital's technology may be relatively new, but the team is anything but.
The three founders are farmers and grain industry experts with a collective 80+ years of experience between them. After two prior successful agribusiness exits, Emma, Bob and Ben saw firsthand how digitisation of data and workflows could connect what was then a fragmented and siloed sector, converting the literally millions of manual processes, pieces of paper, whiteboard information and Excel spreadsheets into one platform for the whole industry.
From this, AgriDigital was born.
"AgriDigital's digital grain management platform includes harvesting, buying and selling grain, moving and storing grain, value-adding grain, shipping a higher value product to market than what had originally been produced – and, of course, processing payments for all of this across a diverse set of customers.
"Before AgriDigital this was done manually, was largely paper-based and each supply chain participant had to create, maintain, reconcile and store their own set of records. With AgriDigital this now happens via a set of intuitive workflows, automated tasks and integrations," explains Emma.
What's more, the cost optimisation, efficiencies, risk reduction and intelligence gained through this could also be used to bring more working capital to the industry.
"We are trying to make every aspect of grain management easier, cheaper and more insightful," Emma adds.
Today, this single platform supports farmers, brokers, traders, buyers of grain, storers of grain, processors and domestic consumers like feedlots, dairies, oil crushers and mills – almost the whole upstream supply chain.
"What our customers love about AgriDigital is that in one platform they have all of their grain inventory management in one place," says Emma. "They know their inventory position in real-time, no matter where in the world they happen to be at that point in time."
FROM PADDOCK TO PAYMENT
AgriDigital is used by thousands of agribusinesses globally, but Emma says one of the most rewarding moments was when the company got their first customer.
"That is always a big win for any start up, and for us we were fortunate that it was the very large but friendly Fletcher Grain, one of Australia's largest single site grain storage operators and accumulators," says Emma.
But Emma is also innately aware that this customer – and all of the subsequent customers – wouldn't have been possible without the support and continued efforts of the team.
"On reflection, the team we are building is a big win. It is the force for raising the bar in all aspects of what we do."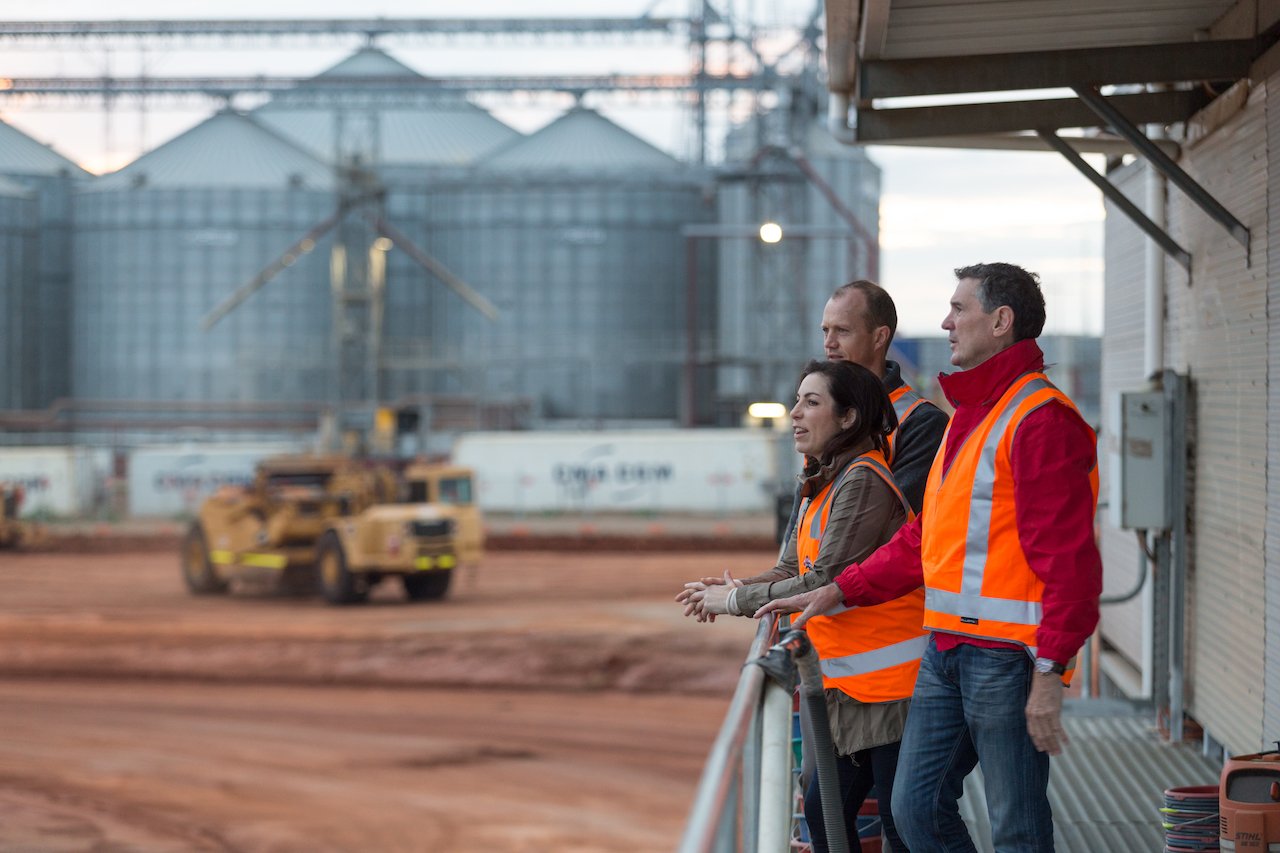 Hard work doesn't come easy, and that rings true for AgriDigital's journey so far. Since its inception, AgriDigital has also experienced its fair share of challenges, particularly given the volatile economic and geopolitical climate (which coincided with its first round of equity capital).
"We have literally had to grow a business and understand and empathize with our customers who, like us, are caught up in the very direct impacts of drought, then bushfires, followed by a global pandemic, the Ukraine/Russia war which drove grain prices to unprecedented volatility, and now some of the most extreme and longest lasting flood events in living memory. It certainly hasn't been easy!"
That hasn't stopped AgriDigital though. Earlier this year, the company raised A$25 million as it plans to expand its footprint into other countries, including the United States. And while this means there are plenty of plates spinning in the air and a never-ending to do list, Emma has a grounded perspective on managing work and family commitments in a sustainable way.
"I don't try to "balance" anything. How do I tell my school-age daughter that she is not the priority today or tell my team at work that I won't be contactable as I'm just evening up my life? I just try to be honest, share with others what is going on in my life, and do the best I can. I try to only worry about what I can truly control," she says.
Growing every day
When asked about AgriDigital's journey to date, Emma is adamant that she couldn't have done it solo.
"I am very grateful that I had two amazing co-founders on this journey with me from the very beginning. I could not have done this alone," says Emma.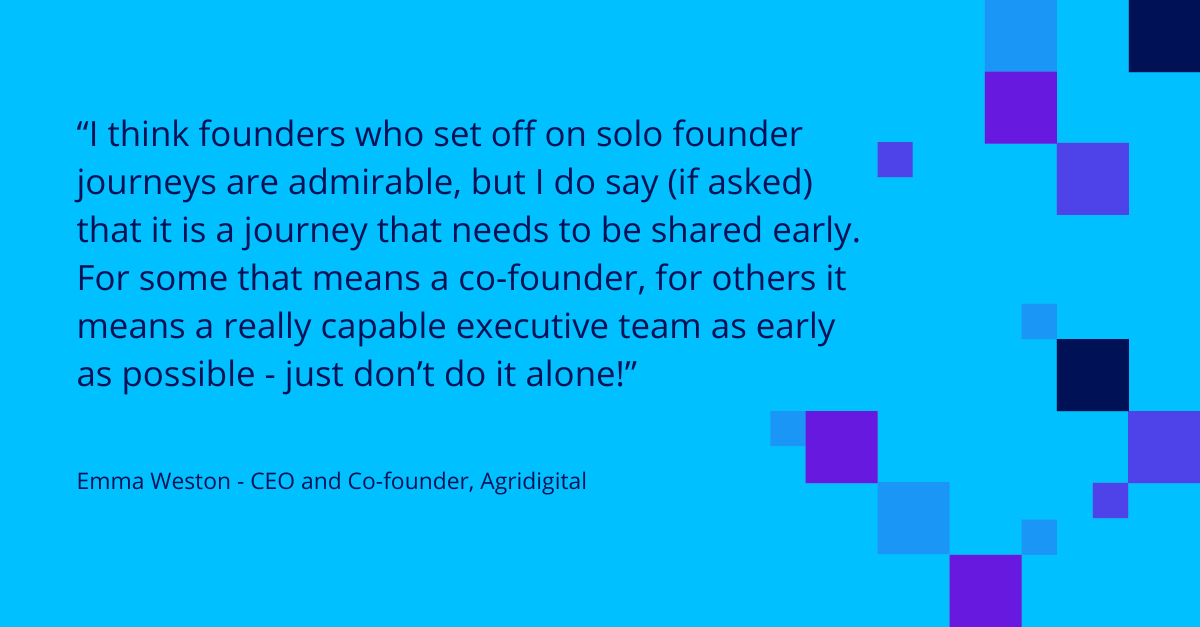 This also means bringing in the right support earlier, rather than later.
"This type of support extends to KPMG High Growth Ventures, with whom AgriDigital has been working with for years now.
"We have been part of KPMG High Growth Ventures since inception. In the early days this was more focussed around understanding and supporting founder growth, avoiding burnout, exploring leadership styles, time to focus on self. Today our relationship has grown as we have grown. It is more commercially oriented, looking for opportunities to add value, to deepen the understanding of our business and what we are seeking to achieve. It is a work in progress - like AgriDigital!"
This attitude of constant iteration and improvement is a key part of AgriDigital's future, as it looks to bring its revolutionary digital grain management platform to more countries around the globe.
"We have a very big vision for our platform in Australia, but also overseas. We have not been able to crack the global playbook yet and so that is in front of us. Australia is actually a small part of a massive market and so there is incredible scale opportunity," says Emma.
With more than a billion people working in the agriculture sector globally, AgriDigital's technology has the power to impact far more than just growers.
"One of those big opportunities is to fundamentally change the way supply chain finance happens. It is not just about going digital, it is about completely changing what capital comes into global value chains to support growth and working capital needs, how that capital is deployed and derisked.
"We see that on the horizon for us and our customers. We've started and we are running hard to forever change this massive market."
Looking to scale up for success? Get in touch and learn how KPMG High Growth Ventures helps founders and their teams reach their next milestone, from startup to scale and beyond.