"Tomorrow belongs to those who can hear it coming."
It's these words from David Bowie that Vanessa Richards has held close to her for over a decade – and it's these words that encapsulate the vision she has with Zoku Travel.
Founded in 2021, Zoku Travel is an online travel platform where creators house their own businesses, selling travel directly to their engaged audiences. Zoku provides creators and travellers with over 1 million accommodation options, 300,000 activities and 24/7 customer service, as the proprietary booking engine and merchant on record.
"We sell the world to travellers based out of the USA and Australia and our creators are global nomads," Vanessa explains.
"Our mission is to empower creators across the globe to sell travel for the first time ever to their engaged audiences – not as affiliates or promotional vehicles, but as true business owners. We give creators direct access to our wholesale booking engine and travel inventory (the same access travel agents receive) and income from every booking made, alongside the tools to build, launch, distribute, attribute and scale their own online travel businesses."
This idea – that creators should be able to generate income off their content and build their own travel business – is one that sounds simple, but is in fact, revolutionary.
From C-suite to bootstrapped
It seems almost inevitable that Vanessa ended up here, bootstrapping Zoku Travel after over 18 years working in travel, technology, media, entertainment and e-commerce, 13 of those at the C-suite level.
Her illustrious career includes countless awards and time at some of Australia's most recognisable brands, including Excite Holidays, Vevo, bellabox, and Nova Entertainment. And more importantly, she lives to travel – having visited 66 countries and counting.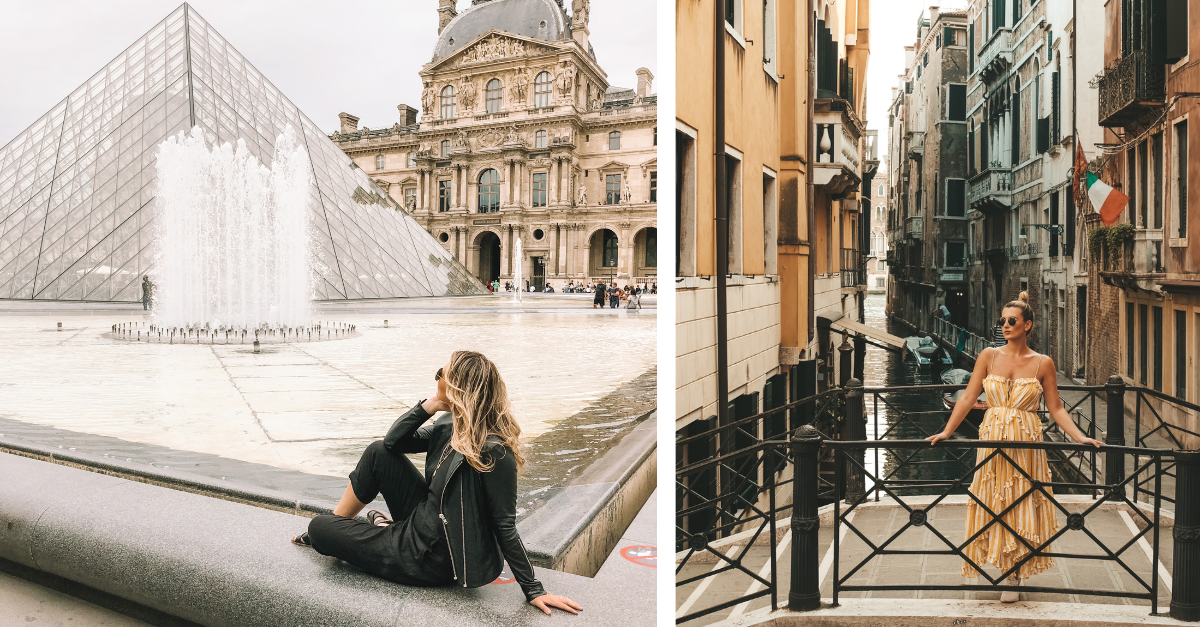 "I worked long and hard, climbed my way to the top, then stayed there as a C-Suite, both as a CEO and CMO prior. I am proud of what I have accomplished professionally as a female leader, however, I always knew that I wanted to run my own business and that was from a very young age," she says.
"I've always had an entrepreneurial spirit and I look at the world through a lens of opportunity, constantly thinking about how, what and if."
This fire for innovation was fuelled when she connected with co-founder Jonathan Midghall on LinkedIn. The duo bonded over the travel tech sector, and discovered that they both shared a similar idea: to change the way travel is distributed and purchased through creators and their content, at scale.
"After several coffees and many catch-ups later, sharing of domain expertise and multiple life stories, we realised that universally we had the same founder values, and the same passion for what we were setting out to achieve and disrupt," she reflects.
Serendipitous? Absolutely. But after founding three startups, one of which was in travel technology, Vanessa knew just how rare it was to find a co-founder that shared her work ethic and complemented her skills – and so, too, did Jonathan.
"I believe finding a good co-founder is, in itself, worth a thousand stars. Gone are the days where you only look to your inner circle to find the person you build your dream with. I learned the hard way that sometimes putting your trust into someone you think you know, doesn't always work out the way you had hoped."
"I decided to cast my net further to find someone with complementary skills, and funnily enough, Jonathan had the same idea. We took the plunge, bet on one another in the early days, and have spent the best part of 16 months working side by side, building this dream that we call Zoku Travel together."

Taking the road less travelled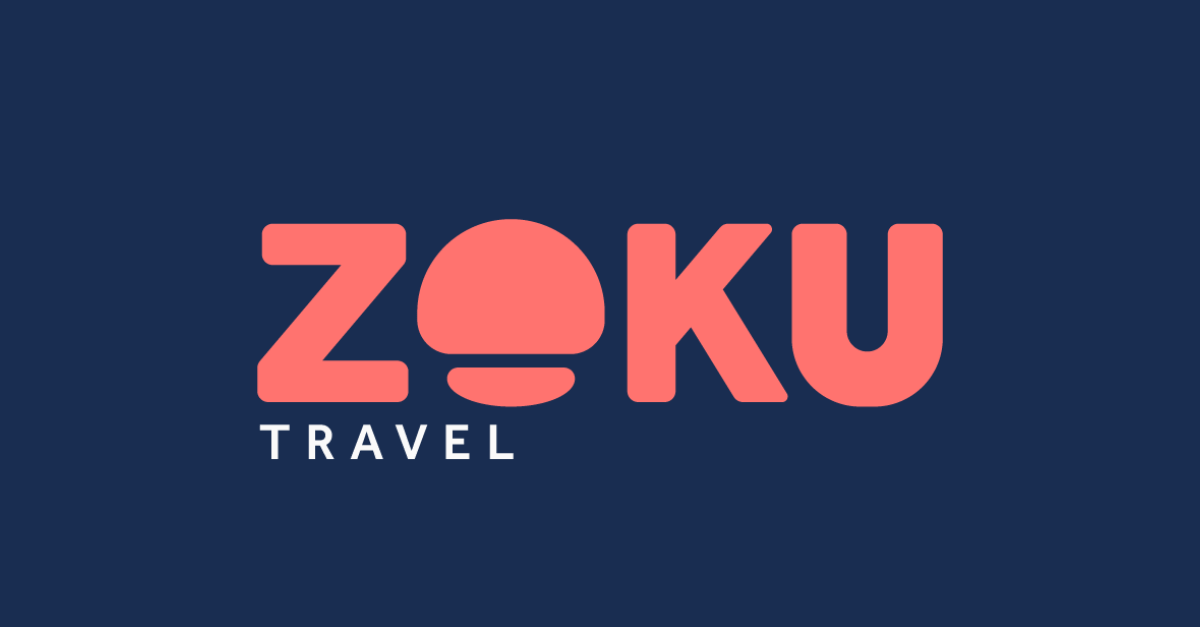 Research has shown that over 300 million consumers globally use creators to plan their holidays before they make their booking. However, the profits of these go straight to online travel agencies, hoteliers, and hospitality providers.
"The problem with this scenario is, creators are making travel companies billions of dollars a year in sales, however earning next to nothing for themselves in the process," says Vanessa.
At the same time, travellers are having to piece together holidays based on content they've seen in reels and blog articles – leading to a fragmented and often time-consuming process.
Zoku Travel connects the two together, enabling consumers to book a creator trip in one click from inspiration to checkout. It's the first step, Vanessa believes, in creating a bold new future for travel.
"We are closing the gap in the social path to purchase and removing barriers of access to travel inventory, so creators can finally distribute their content and travel product together, dynamically and online."
Although the platform is yet to officially be released, Zoku Travel has already achieved incredible feats in the lead-up to launch day.
Vanessa and the team have built a supplier network feeding in over 1 million products, along with a 50-strong creator network from around the globe.
What's more, the customer waitlist has broken the 11,000 mark – validating the demand for a new way to book and experience travel.
Alongside these achievements, Zoku has secured destination partners to demonstrate its revenue-generating proof of concept, secured a tight-knit and passionate group of angel investors, and built a team of like-minded individuals who are ready to transform travel as we know it.
"We are a small team, however we are mighty and the passion and drive that radiates throughout everyone in Zoku Travel is what sets us apart. Our people are everything to us," Vanessa says.
Along with a fantastic team, Vanessa says working with KPMG High Growth Ventures has been invaluable for Zoku Travel.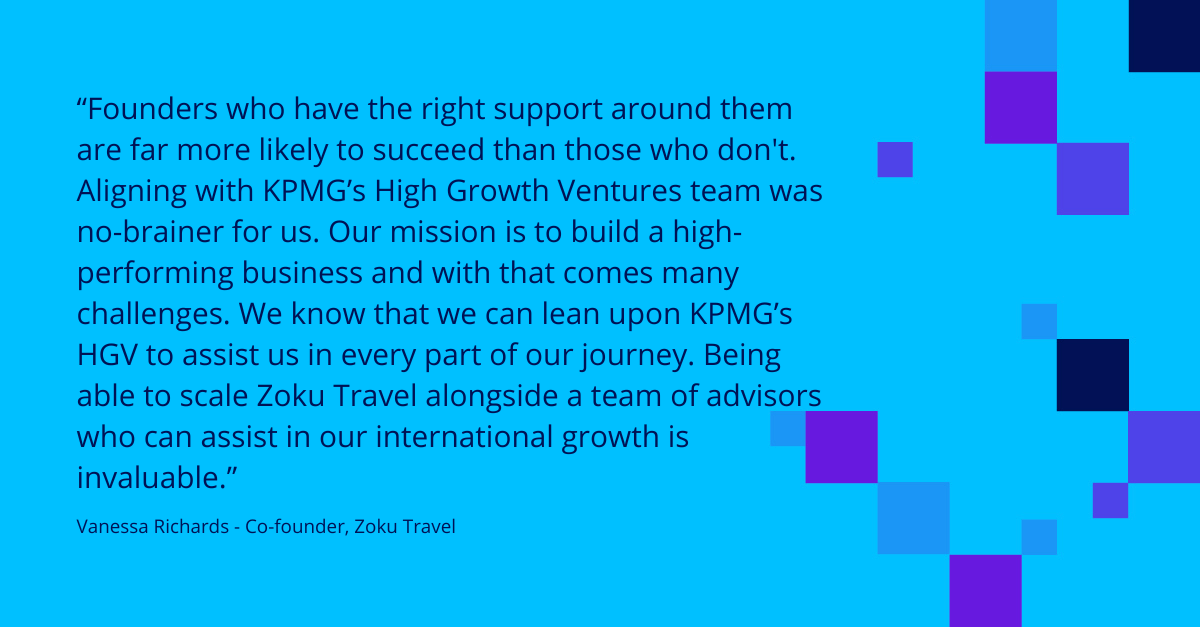 With this support, the team are planning a soft launch for Zoku Travel in March 2023, before scaling up and making noise in both Australia and the USA.
At the same time, Vanessa emphasises the importance of gathering feedback from both users and creators, and building features to support their growing creator community.
"Zoku Travel's growth is a given as long as there is creator growth. At Zoku Travel, creator growth is key, not because it triggers more bookings but because it seeds more creator growth. The bigger their success, the greater the aspirational value it carries."
The team are also raising another round of capital to support its growth ambitions, which include building its operations, scaling, and introducing Zoku Travel to new source communities around the globe.

Fierce and fearless (and yes, female)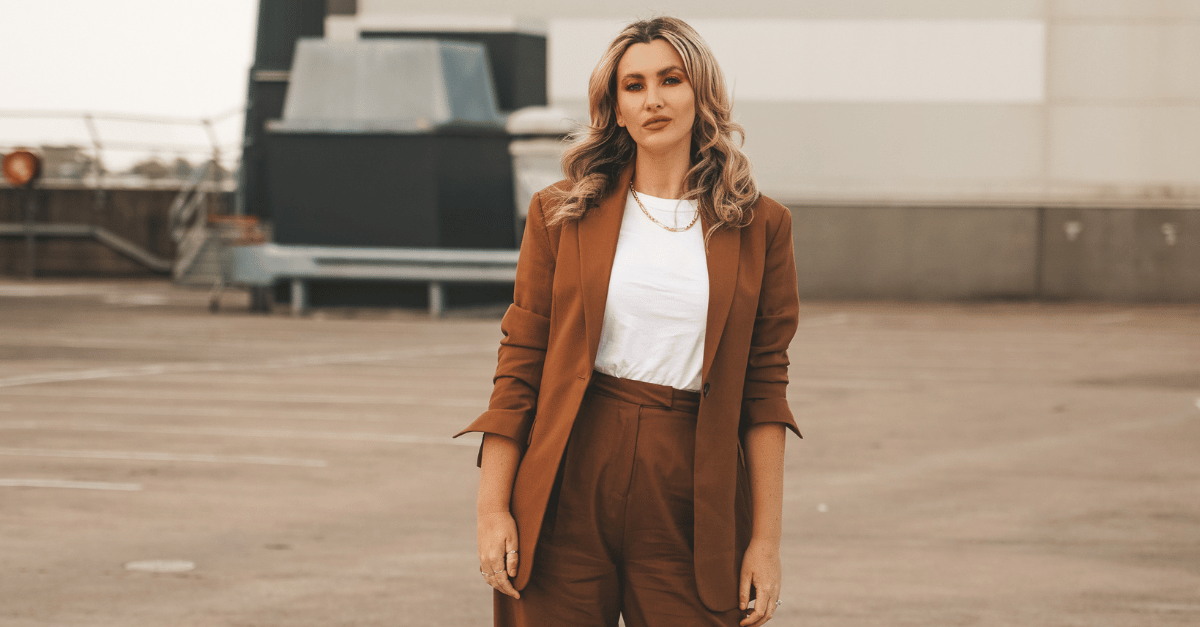 The launch of Zoku Travel comes as Cut Through Venture's 2022 State of Australian Startup Funding revealed investment in female founders is at an all-time low.
Although Vanessa and Jonathan were able to secure capital, she recognises that this isn't the story for many women – and that there's a long way to go for female founders.
"Capital raising is always a challenge. One of the perennial questions that you are also asked as a founder who, yes, also happens to be a woman, is: how do you balance being an entrepreneur with either having or wanting to start a family? The question, while well-intentioned, is however, inherently sexist, rude and irrelevant to the actual cause. It assumes that because you are female any endeavour outside of family caregiving (if this is something you are fortunate to have, or even want), comes secondary to that of your role on the homefront," she says.
Throughout her journey, Vanessa has learned lessons – many the hard way – and she passes this knowledge on to the female founders she mentors.
"Don't ever let anyone else speak for you, Ladies I am talking to you. You have a voice, so use it. Speak up, push in, don't hold back, take credit for your work and when you get discouraged, do it again. Proudly take a seat at the table, any table," she urges.
Beyond this, she believes that all founders should be obsessed – but not married to – the issue they're solving.
"Don't launch a business if you don't love the problem you are trying to solve and feel a deep connection to it. However, don't fall in love with your ideas. Founders can become too fixated on a specific idea to be genuinely open to feedback," she warns.
This objective lens, she says, should also permeate through to all aspects of the business.
"Future proof, build a product pipeline and diversify your revenue streams. Timeless success comes down to a startup's ability to convert an idea into a product that delivers sustainable value. Why? Because what is important and relevant today will be obsolete tomorrow. The key to creating a memorable idea is to sustain it.
"Successful founders, the ones who leave a legacy, create products that can morph with change, bring in multiple revenue streams and handle market fluctuations, therefore maintaining relevance over time."
But ultimately, she says, being a founder is about being resilient, balancing commercial acumen with vision, ad being your authentic self.
"Don't give up when the going gets tough, be clear on your vision, take in every single moment, continue raising, be kind, be humble, know your worth, use your voice, know and love your product and make it count."
Looking to maximise capital efficiency in 2023 and beyond? Get in touch and learn how KPMG High Growth Ventures helps founders and their teams grow sustainably, saving time and money.