In any industry, there are always players who focus on diligence and discipline. On being deliberate despite market movements in either direction, and staying the course in turbulence and in triumph.

In Australia's VC landscape, one of those players is EVP.

EVP, recently ranked second by founders in the Astral Ventures VC Leaderboard, has recently bucked tech tremors to close its fourth fund – and Operating Principal Kiya Taylor played an integral role in its $100M raise.

We speak to Kiya about her experience in the trenches as an operating principal, why community is integral to the EVP ecosystem, and her perspective on what it takes for founders to raise in today's climate.

EVP_ORIGINS
Founded by Les Szekely and Howard Leibman in 2014, EVP is a venture capital fund based in Sydney that invests exclusively in early-stage, B2B software companies in Australia and New Zealand.

As of April 2023, EVP has over $270m under management and an exceptional portfolio of software companies that include online logistics platform Shippit, global workforce management platform Deputy, and sole-trader tax automation platform Hnry.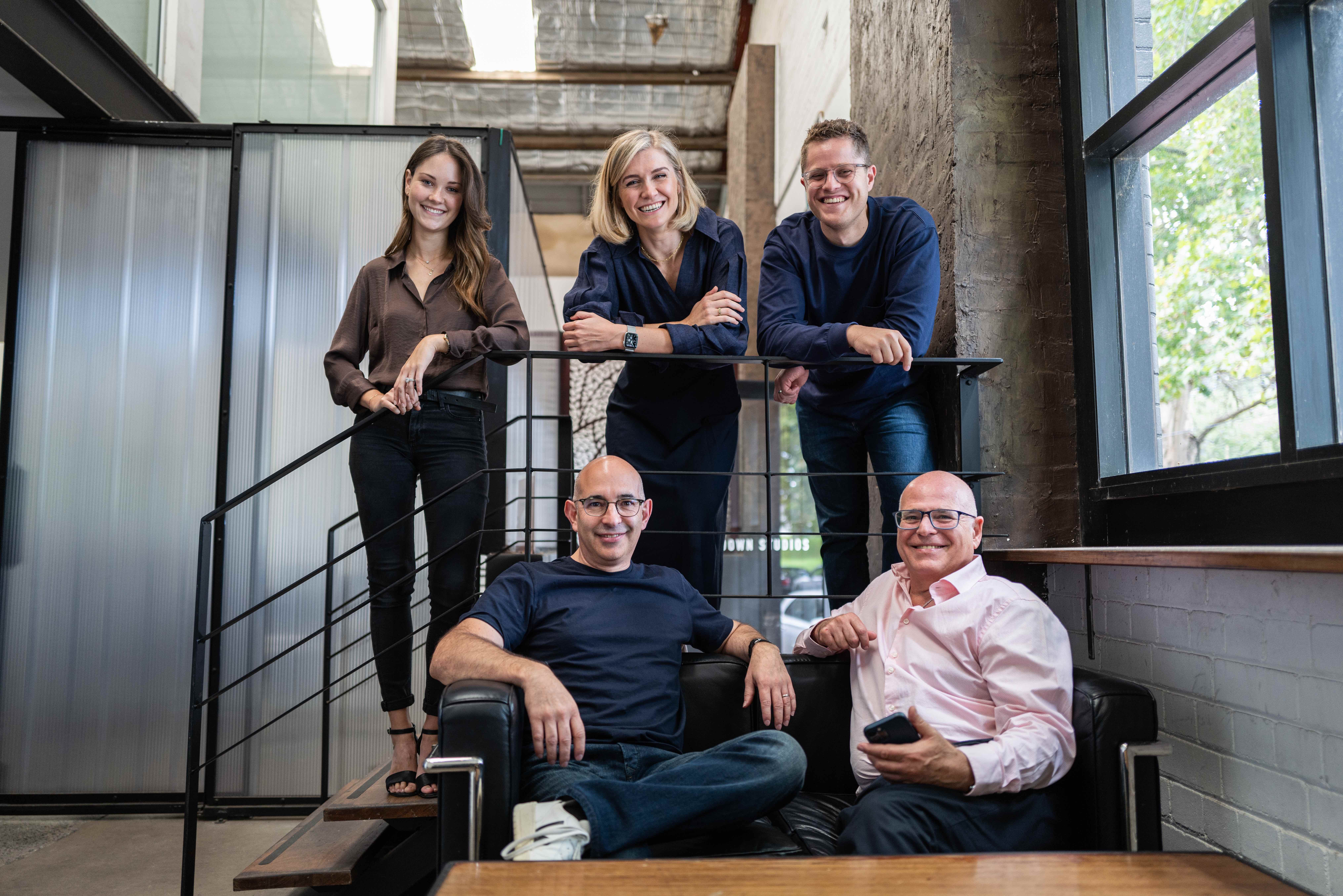 Members of the EVP team: Britt Bloom, Kiya Taylor, Justin Lipman, Howard Leibman & Les Szekely
As anyone can probably guess from looking at its portfolio, EVP is focused on B2B but they're industry-agnostic, preferring to invest in founders who have some direct experience with, or a unique perspective on, the problem they're looking to solve.

Kiya said it was this approach that drew her to EVP – that, and the opportunity to play an integral role in the experience for founders.

"EVP stood out to me as being specialised enough that I'd be able to 'go deep' in learning certain things, but broad enough in industry focus that I'd be able to 'go wide' on application exposure. It was also a small team, with a great track record, presenting a bit of a blank page for me to build from – it was a dream scenario really."

More importantly, EVP had a culture that appealed to Kiya, thanks to its commitment to cultivating community and offering genuine value to its founders.

"A founder recently shared in one of our 'EVP_Origins' videos that he thinks "EVP punches above its weight", and I like to think that's incredibly true. We have a culture of 'substance over hype' and strive to be genuine in our value add approach, whether it be through the programs of support we run, or the 1:1 advice founders get through their board members."

An unconventional route into VC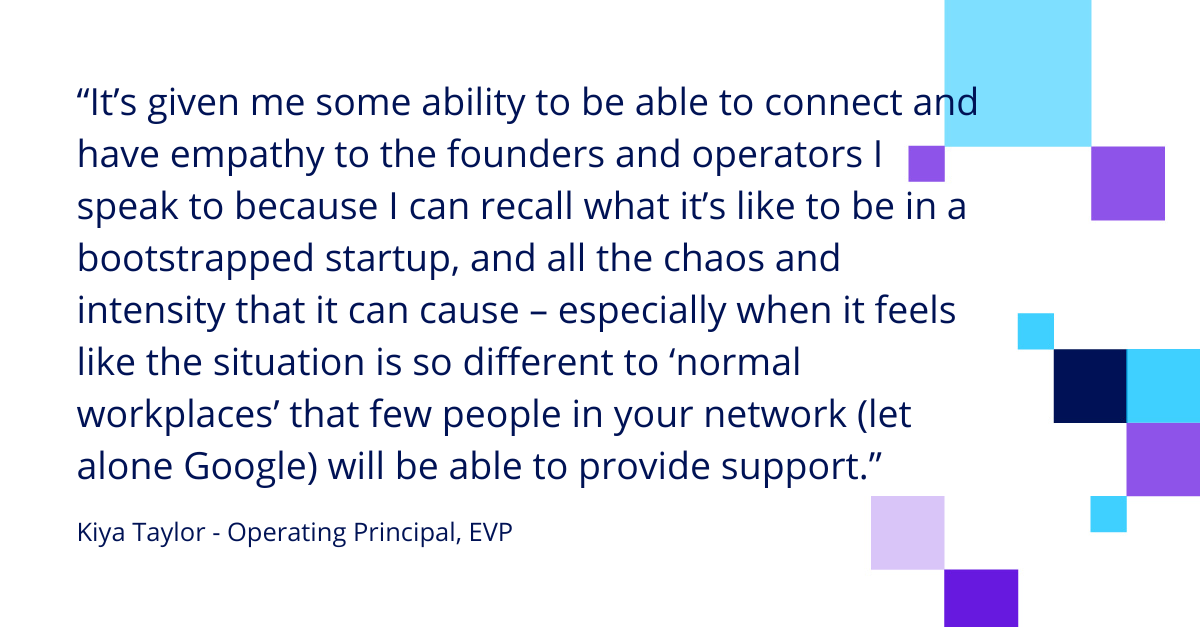 From marketing and communications to government relations, Startmate coach to podcast host, and cleantech to renewables, Kiya's pathway to VC has been anything but typical. And it's this perspective, she says, that gives her a unique lens on her work at EVP.

"For founders specifically, my experiences working in a startup, consulting directly to entrepreneurs and getting exposure to innovation through the lens of government has given me some sense of understanding of what it feels like to be on the ground building," she says.
"It's given me some ability to be able to connect and have empathy to the founders and operators I speak to because I can recall what it's like to be in a bootstrapped startup, and all the chaos and intensity that it can cause – especially when it feels like the situation is so different to 'normal workplaces' that few people in your network (let alone Google) will be able to provide support."

"Working in a really early-stage startup is a unique experience, in that typically you're doing it because you believe deeply in some part of the mission, which can have big ripple-on effects on your dedication, identity and balance," she adds.

"It's not the same as feeling like you have a deadline in a corporate that you need to hit – it feels deeply personal. So I think having some small insight into this helps me to connect with empathy and think through the lens of what's relevant to their environments."

The true testament to this is what Kiya says she'd be doing if she wasn't in VC.

"Building my own startup – or helping someone else build theirs. I love the early set up phase, it's definitely where my skillset and strengths are."

Being at EVP, however, has allowed Kiya to broaden her already-impressive skillset, which includes raising EVP's fourth fund – one of her biggest career highlights during her tenure, she says.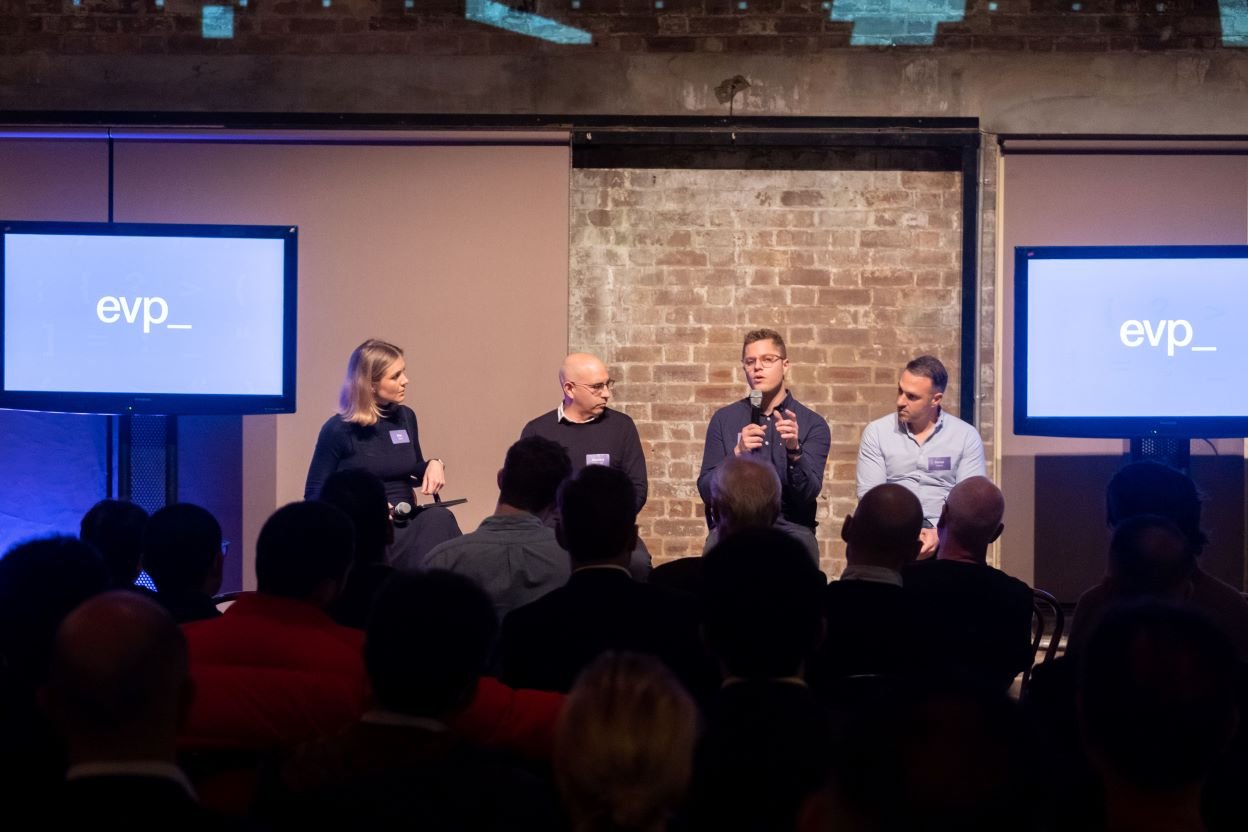 The EVP team at the launch of Fund IV
"One of the key reasons I joined venture capital was to better understand the fundraising process from a startup/VC perspective – but this experience amplified that tenfold, in giving me the direct exposure of actually doing the fundraise," reflects Kiya.

"I think people in the broader startup world often forget that small to mid-sized funds who don't raise from institutional investors have to go out and pitch to investors to raise money as well. I really loved that part of the process: strategising and pitching – getting to know many of the people who support us to support founders."

Community at the core
It's perhaps no surprise that Kiya found so much value in going out and building relationships with those who are investing in EVP.

After all, Kiya says, "Community plays a really important role across the EVP ecosystem."

"Community is a strange thing for many to get their head around – but at its core, it's about making people feel they belong to something bigger through some form of shared experience or value. You don't have to have software and strategies to do that, sometimes it's just about consistent, inclusive communication. But from a business perspective, I'd caution anyone against undervaluing it, it really is just modern-day retention, satisfaction and referral."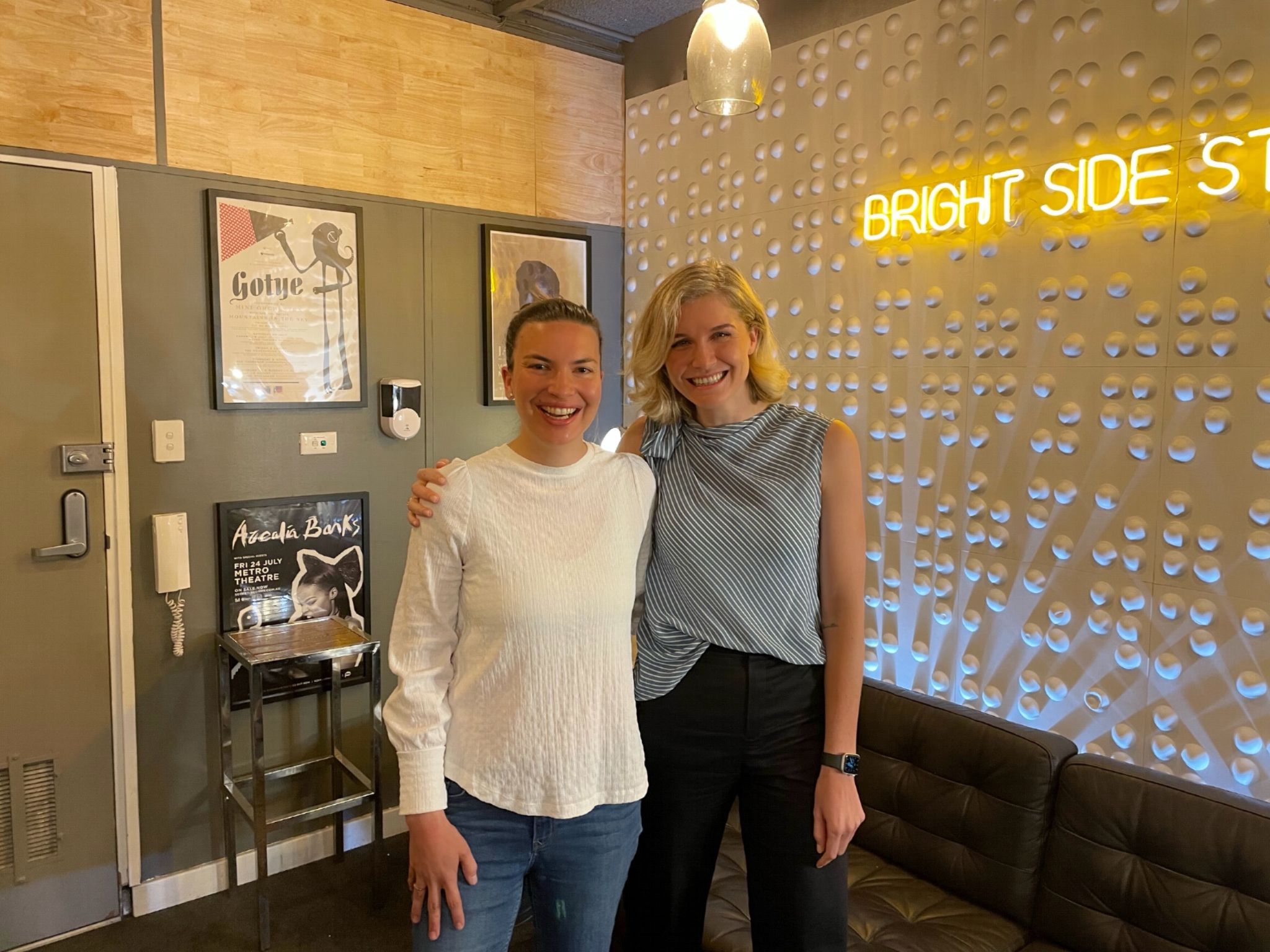 Kiya Taylor recording a podcast in the studio with Dr Nicole Kuepper-Russell, COO at 5B.
For founders, EVP's community provides much-needed support as they embark on one of the most challenging, rewarding, and isolating journeys of their lives.

"We focus a lot on curating support and connection so that they feel they're 'held up' by something bigger than just an investment.

"It's a very intangible thing to cultivate, and different founders want different levels of community, but what is tangible is how we show up – whether it be through the investment team being so consistently and willingly involved, or the fact that once a month they get a Founders Update specifically for them, reminding them they're part of a bigger 'team'. We've had plenty of cross-collaboration across the portfolio, and a lot of knowledge sharing from those perhaps a few steps ahead to others."

At the same time, the EVP team recognises that building a community goes beyond simply connecting founders to one-another.

"We also put in deliberate efforts to cultivate community amongst the teams of the companies we invest in through programs that connect each member of the portfolio in a monthly introduction, as well as through programs scoped for different functions."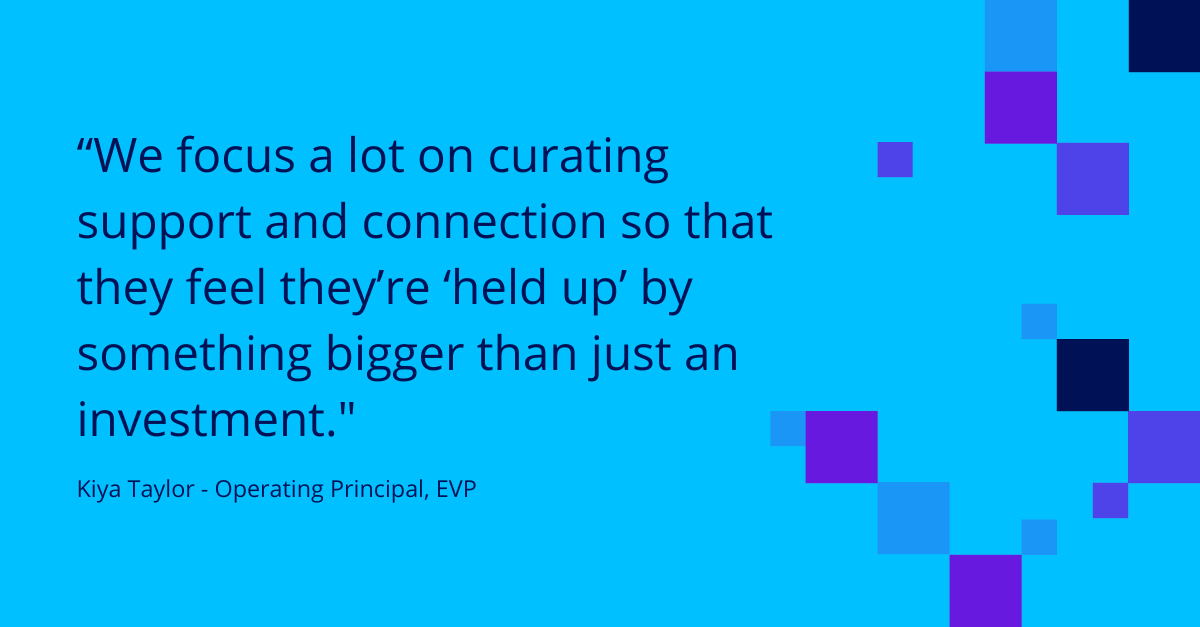 The importance of focus, perspective, and the right team

During her career, Kiya has encountered and worked with her fair share of founders. As a result, she's gained a sound understanding of what sets high-potential founders and startups apart, based on her experience and intuition.

So what's top of the list?

"Focus, focus, focus," she insists.

"You cannot do everything at once, and you cannot successfully be everything to everyone. Opportunity, or lack of opportunity, will make you feel like you need to throw a million things at a wall to see what sticks. I think great startups find a way early to cultivate their 'bread and butter' and then expand from there."

In addition to having your eyes on the prize, Kiya also says team is critical – but it's more about having the right people in the right roles.

"It doesn't matter how great your product or the market opportunity is, if you don't have the right people in your team, you won't get to the outcomes you're shooting for."

She then gives an example of this thinking with co-founders through one being 'technical' and the other being 'visionary'.

"In this dichotomy, people forget the critical need of 'operating and growing a business', (ie, often the role of a COO) which then falls onto the CEO who is often trying to raise money, set the vision and keep people motivated," said Kiya.

She also reminds founders that they don't need to have a unique problem or solution that nobody else has uncovered yet. In fact, she believes this type of thinking can be problematic for a number of reasons.

"Original innovation is high risk and high cost. For a lot of sectors, this isn't entirely needed – you just need to solve the problem in a 'better' way. Having some sense of 'competition' actually signals that there is a market and a problem worth solving. You need to be able to clearly differentiate, but don't get hung up on there being some activity in the market. Rather, get hung up on how you're going to solve it differently to them.

"It's about having a unique perspective on, or way of solving the problem and solution."

"Lastly, it's important that someone, typically the CEO, has an exceptional ability to tell a story. Whether it's to your investors, your employees or your customers, you need to be able to succinctly, yet persuasively tell the what, how, who, why of your business. If you don't have someone in your team who can craft the story naturally, pay someone to help you figure it out," Kiya urges.

As for this year?

Kiya recognises that for many founders, this year feels unprecedented. However, she offers some grounded advice for anyone who is feeling uncertain about the year ahead.

"There have been a lot of swings, roundabouts and rollercoasters in the ecosystem over the past few years. Each year seems to throw out a new way of being an 'out-of-the-ordinary year'."

"Try not to get too influenced by this rhetoric – you don't start a startup to experience ordinary years, you do it to experience the extraordinary. Be pragmatic about what macro factors influence your business, but stay focused on your own goals and run your own race."
EVP is currently deploying their fourth fund. To learn more, visit EVP's website.