HOW DOES YOUR BUSINESS STACK UP?
For climate tech start-ups seeking to raise funds, reporting on and seeking to minimise carbon emissions from operations can be the differentiating factor in securing funding, accessing grants and growing a solid customer base.
But how do you ensure you're accurately measuring, reporting, and communicating on your ESG efforts? It all starts by understanding your baseline, owning your narrative, and building trust through measurable and impactful metrics related to ESG.
To help you do this, KPMG has developed a proprietary ESG diagnostic tool after extensive feedback from startups, VCs and Family Offices in our network.
Your complimentary diagnostic and consultation will help pinpoint your ESG advantages and opportunities compared to other startups, and learn how to level up your ESG to the level that your investors, team and customers expect.
HOW IT WORKS
Submit the form to receive a link to complete your 10-minute assessment.

A member of our team will reach out to book your free 30-minute consultation, where you will receive your 2-page ESG diagnostic dashboard, roadmap, and key insights.
WHAT YOU'LL RECEIVE
An ESG score (total and by pillar)
ESG risk and opportunity radar
A comparison to others in Climate Salad to understand how your business stacks up
A practical, stage appropriate roadmap for your ESG journey that you can take away and implement
A free 30-minute session to understand your results, an assessment of your unique competitive advantage and opportunities, and the potential roadmap forward for your stage and growth path.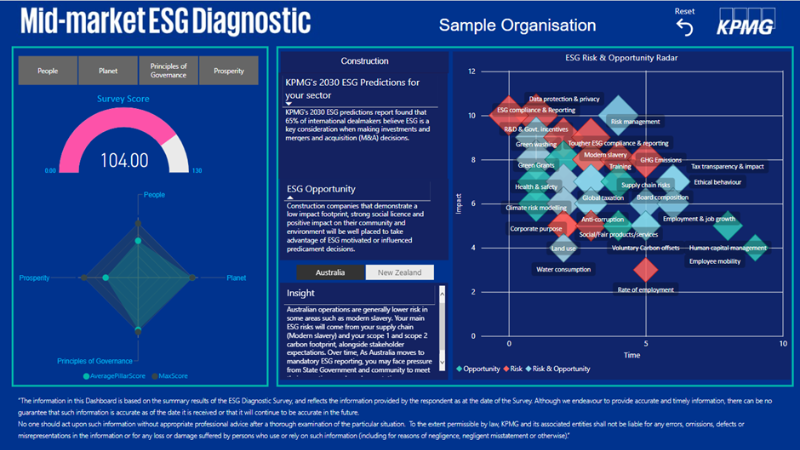 An example of the diagnostic dashboard.
"Starts ups that proactively address the ESG opportunity with a view to create tangible value from values will be well placed as they grow and seek out additional capital on their growth journey."




JOSH GEELAN, PARTNER AND ESG LEAD, KPMG AUSTRALIA
Stay Informed
Feeling time poor? Don't spend hours scouring the web for inspiration on how to move forward. Get the latest HGV insights delivered directly to your inbox.