Solving the world's biggest challenges isn't for the impatient. It's not a story of overnight success. It's a story of years, or even decades, of careful research, planning, and development – all underpinned by an idea that science can change the world.
It's a bold vision that is shared by many deeptech founders, and one that Martin Duursma, Partner at Main Sequence Ventures, is all too familiar with.
"Deeptech founders are solving a wicked engineering problem at a global scale, often with hardware that requires two to three years of product development. There's typically more capital involved because they have to build things, but it's really impactful because it's supporting future generations," he says.
However, with scientific innovation, there's the notorious 'valley of death' that exists between research and commercialisation – which often stands between scientific breakthroughs and incredible global value.
That's what Main Sequence Ventures was created to address.
Launched out of CSIRO, Main Sequence exists to turn scientific breakthroughs into the next century's giants – and Martin Duursma is one of its most recognised faces. We sat down with Martin to talk about his journey into VC, how Main Sequence identifies and invests in companies, and his insights for founders in today's market.
A sequence of unexpected events
As one of five founding partners of Main Sequence Ventures, Martin was there when the fund was first established back in 2017. It was a case of the right time and right place: the opportunity had just come up as he wrapped up two decades in the Citrix Technology Office (CTO), where he started the company's research arm, Citrix Labs; led the CTO Council; and supported innovation through the Citrix Startup Accelerator Program. Prior to that, Martin was one of the founders of Datapac, a company developing multiuser business operating systems that was eventually bought by Citrix.
Describing his entry into VC as "a little bit accidental in a way", Martin quickly found that he could offer a unique full stack lens into investing, thanks to his extensive knowledge of how products are conceived, built and manufactured.
"You have that founder empathy because you've been a founder and you know what it's like. You know that you've got to make the payroll every month and if you can't pay your staff, what the consequences are.
"When you're running your own startup, you feel that pain. It's visceral because effectively, it's your decisions that make or break the business and you feel responsible for all the people that work for you. That's the difference when you've worked in a startup," he says.
It's this empathy, Martin says, that helps guide his decision-making when deciding which startups to back at Main Sequence Ventures.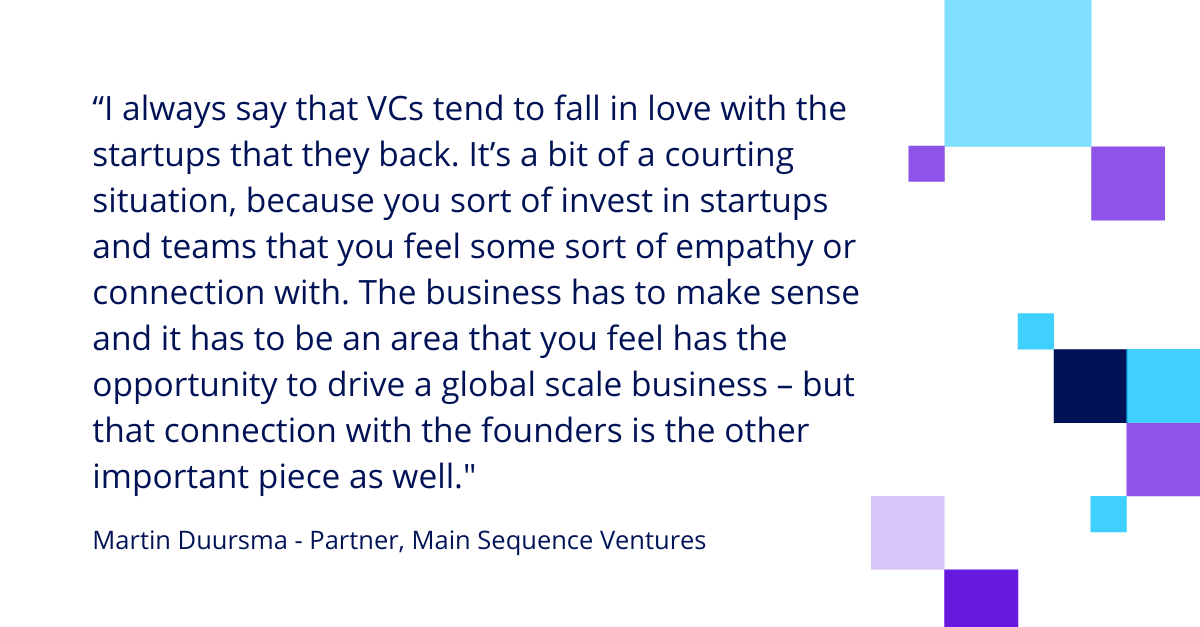 Tackling the world's biggest challenges
Over the years, Main Sequence Ventures has backed an incredible pool of companies through two funds. The firm has invested in more than 42 startups that are answering the call of Earth's biggest challenges, from those supercharging industrial productivity to those scaling healthcare and feeding 10 billion people. With his background in engineering and computer science, Martin has naturally gravitated towards investing in companies tackling the 'Bridge the Gap to Space' challenge and the "Decarbonise the Planet" challenge.
So what factors does he look at when choosing which companies to invest in? There are three criteria, he says: global scalability, the veracity of the technology, and the team.
"The company has to be global from day one…That's the start of the investment thesis for any company we invest in: what's the total addressable market globally? It's fine to start in Australia with your first customers, but they have to be thinking about export from the get-go," he says.
"The second piece is the veracity of the technology. How competitively differentiated is the technology or the capability that's being developed by the company? It's often coming out of a university, so it requires us to try and understand the state-of-the-art in the field that this company's operating in.
"The third is the team. Often with deep tech, the founders are frequently technologists who have come out of university. Our challenge is to augment these founders with experienced business people, whether that's a Head of Operations, Head of Sales or a Head of Commercial, to round out the skill set of the founding team," he says.
Although he's passionate about all of the startups in the Main Sequence portfolio, there are two experiences in particular that have stuck out to him in the past year and a half.
"I've been involved with two companies that we run in our Venture Science model, which is where Main Sequence actually creates the company. When we find an interesting research capability or technology has been developed at a university and we can couple that with a market pull, we'll actually bring on an EIR or CEO, work out the business case, bring forward the companies, establish it, fund it, and bring in an industry partner – and that's pretty exciting," he says.
The first is Endua, a renewable energy company that is replacing diesel generators by converting renewable energy into hydrogen and then back to electricity. The second is Quasar, a ground station as a service company that uses CSIRO's Phased Array technology to support secure satellite communications at scale.
"It's a great example of research in astronomy that's now leading to commercial outcomes," Martin adds.
PAVING THE WAY FOR THE FUTURE
It's not just Martin and the team at Main Sequence who are passionate about deeptech. There has been a growing interest in the sector, and he's seeing that firsthand with his work. Main Sequence has garnered significant interest from family offices and high net worth individuals, precisely because it's focused on deep technologies that are tackling some of the world's most pressing challenges.
"I think people are looking for differentiated investment. People are looking to make a difference. That's the shift that I've seen in the investor community. Obviously they always want returns, but there's a different lens that people looking at now. It's returns with impact," he says.
And while deeptech is brimming with opportunity, Martin says it's not immune to the challenges of today's market. That's why his key takeaway for any founder is to get clear on the big picture and learn to take others on the journey if they want to be investible.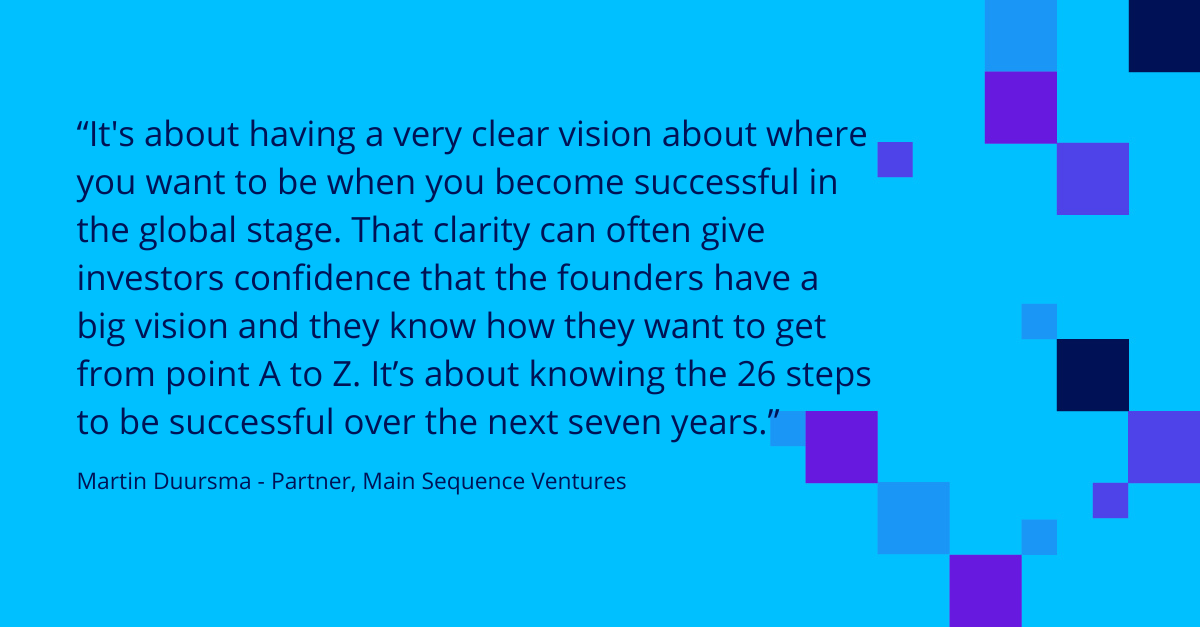 "That true North orientation helps get investors excited about why they want to invest. And then presenting that in a compelling way. You can't just say what your true north is. You have to think about how you make that exciting to the investor. There's a lot of noise. Investors see a lot of pitches from a lot of companies, so the clarity of language about what you want to achieve and why is critical, especially if you're looking at new investors," he says.
Learn more about Martin and Main Sequence Ventures here.