Jess Walker has always been a builder. Since her early days at university in New Zealand, she started tinkering around with small eCommerce businesses – always with the idea that she wanted to create something from scratch.
"I always wanted to build something. I just didn't know what that was," she recounts.
Then, when she was 23, she found what she wanted to build: Idle, an end-to-end marketplace for short-term AirBnB properties.
Self-professed as being young with little responsibility, Jess dove headfirst into her idea. She ran Idle for three years, growing it to a team of 10 and one of the largest businesses of its kind in New Zealand, before selling it to a company in the UK.
"After three years of an operationally heavy business, I was completely burnt out. I needed to re-evaluate what I wanted to do and how I wanted to do it," she said.
"Being a founder is phenomenal. You have this inner buzz every day from knowing that you're building something and changing the world. That was really motivating, but I didn't want to jump into another company and build that until I knew what I wanted to build."
Unsure of what to do next, Jess was looking for another opportunity when someone she knew recommended her to a VC. It seemed like the perfect progression: she got a learning opportunity, while still being able to be deeply involved with founders and their journeys.
"I jumped at that chance because I knew what I loved. What I loved was startups and founders and hanging out with them every day. Whether I do that as the founder or as a VC, it seemed like a natural progression at the time."
A few years later, and she shows no signs of deviating from this path. As the Community and Programs Manager at Airtree, Jess is bringing people together and building communities that are changing the very fabric of the ANZ startup ecosystem.

Building communities and pioneering change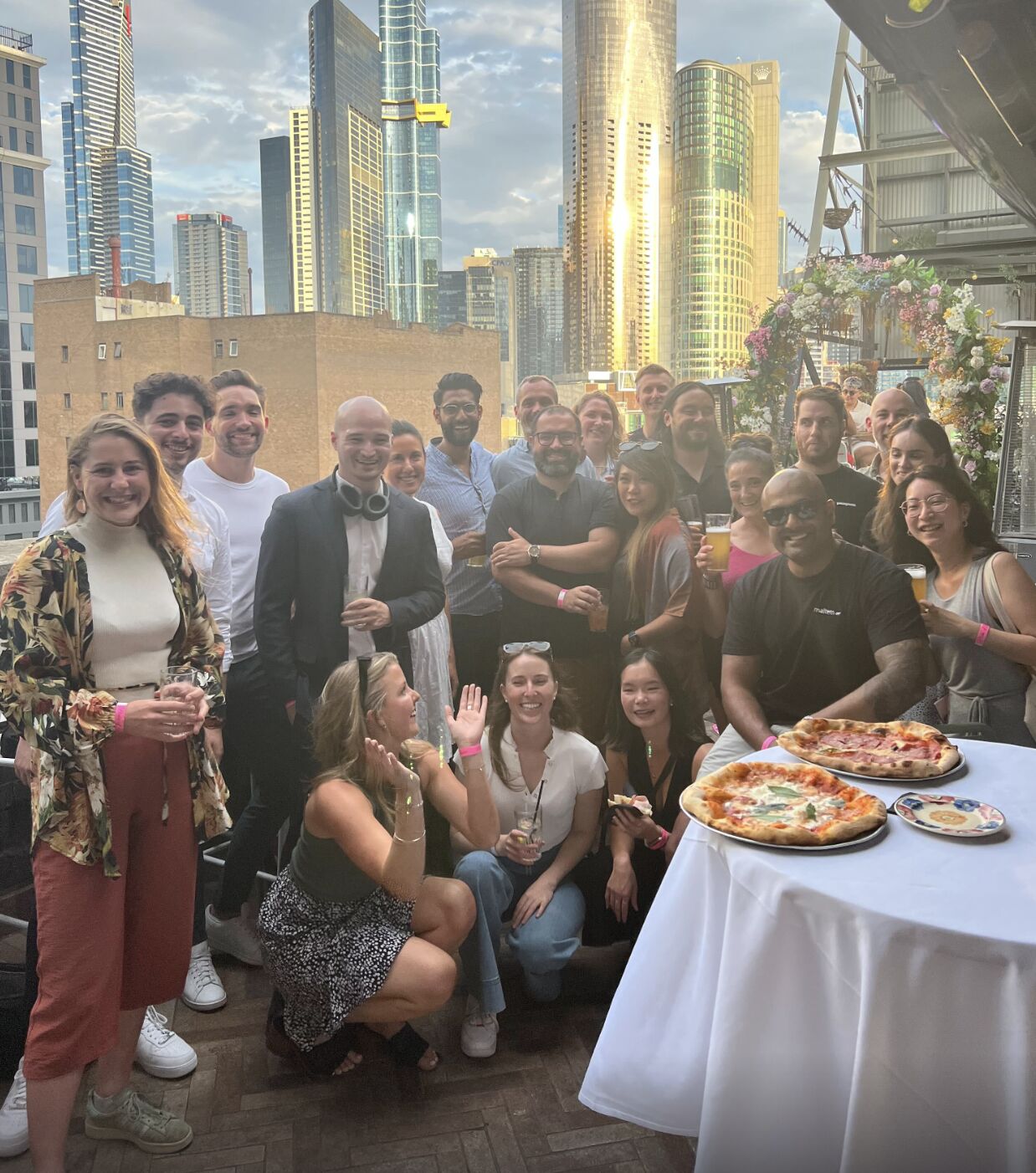 The Airtree Explorers Program Cohort in Melbourne.
The head of the Explorer Program, Airtree's dedicated program for angel investing, Jess helps support the next generation of angels across Australia and New Zealand. This three-month program takes participants through everything they need to know about angel investing, including what it is, due diligence, legals, syndicates and more.
"What we're really intentional on is making sure that the angel investor now isn't what they looked like 20 years ago, and diversifying who an angel investor is," she says.
This deliberate focus on diversity has resulted in over 50% of Explorer's last cohort coming from women and diverse genders, hailing from all regions across Australia and New Zealand.
"It's a really rewarding thing to do because we're changing the landscape of what angel investing looks like. That flows through to the types of companies that are invested in as well," Jess adds.
In fact, Airtree's own statistics suggest that when an Explorer cohort is comprised of 50% women and diverse genders, they bring in 20 to 30% more female founders into the Airtree deal flow as a result. Jess then helps to look after deal flow and investment that comes from Explorer as well.
This focus on diversity is what inspired the other half of her role as the manager of Pioneers, a community specifically dedicated to women and non-binary founders, operators, and startup enthusiasts.
"Our philosophy is that you can't be what you can't see. Through incredible speakers, workshops and networking events, we show our community that being a founder is quite a lonely journey – but you're not in it alone. We try to make it less painful," she says.
This includes helping female and gender-diverse founders navigate the unique challenges that they come across, from the types of questions they get asked – "what can go wrong compared to what can go right" – to planning for, and responding to bias in investors.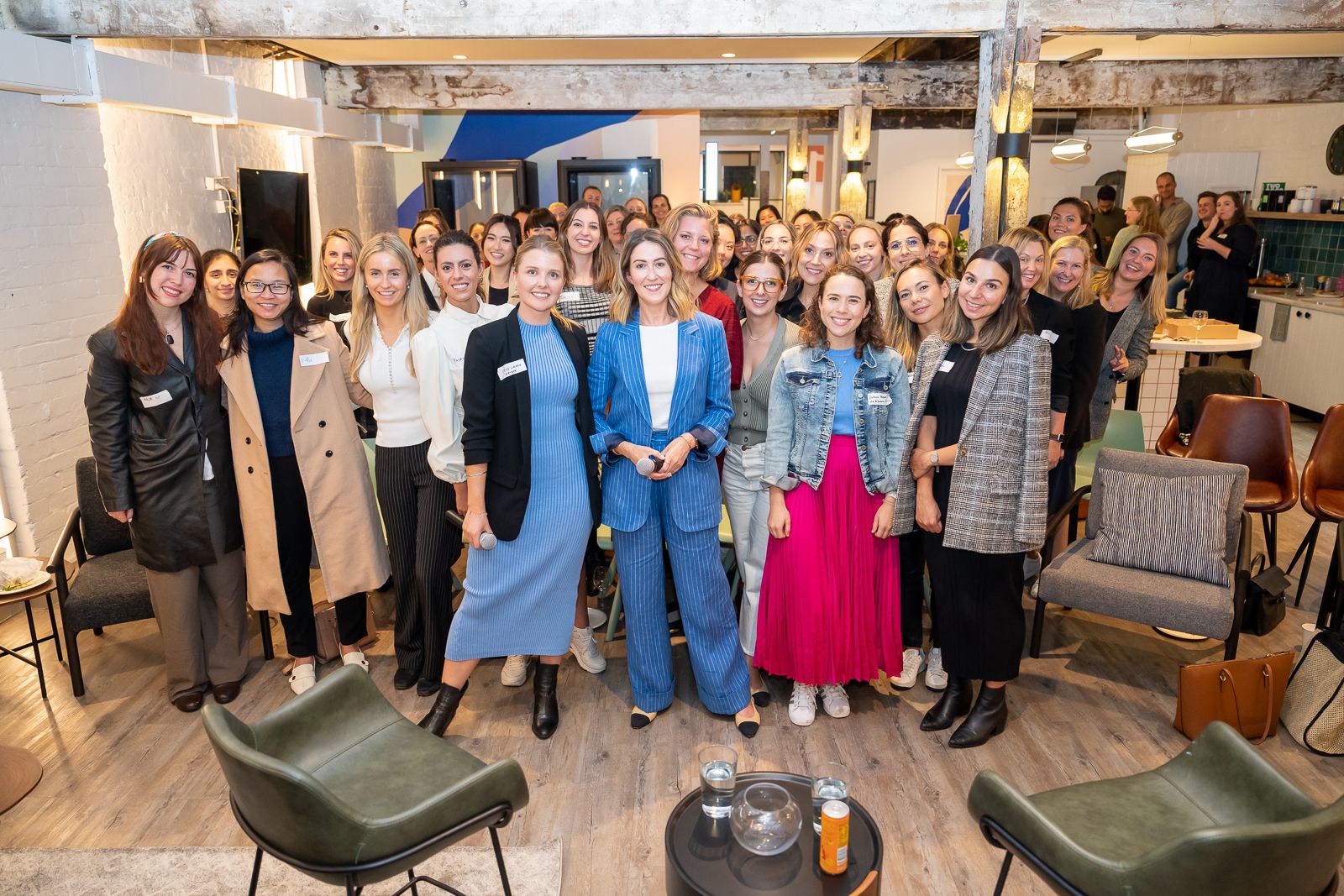 The Airtree Pioneers community at a fireside chat with Kate Morris, founder of Adore Beauty.
With Pioneers, Jess says, she gets to do what she's most passionate about: building with purpose.
"I think Pioneers is much needed in the ecosystem. We're building it from scratch and we're already seeing a lot of people benefitting from the value that it brings. We're looking to expand it and grow it into one of the most valuable communities for women and non-binary across Australia and New Zealand," she says.
"It's been really fantastic because it's driving a lot of purpose as well. It's something to get out of bed for every day."
Don't compromise culture for cashflow
At Airtree, Jess gets to witness the birth of innovation first-hand – and she also gets front-row seats to the ebbs and flows in the startup space. The past few years have been a roller-coaster of anomalies to say the least, she says, but at the end of the day she believes the ecosystem will emerge stronger.
"It's been growth at all costs at super high valuations, and now it's at the calibration stage. I think people are going to start building more sustainable companies, and the mindset shift is going to be to build companies that are in it for the next 10 or 20 years – rather than go, grow, and get market share," she says.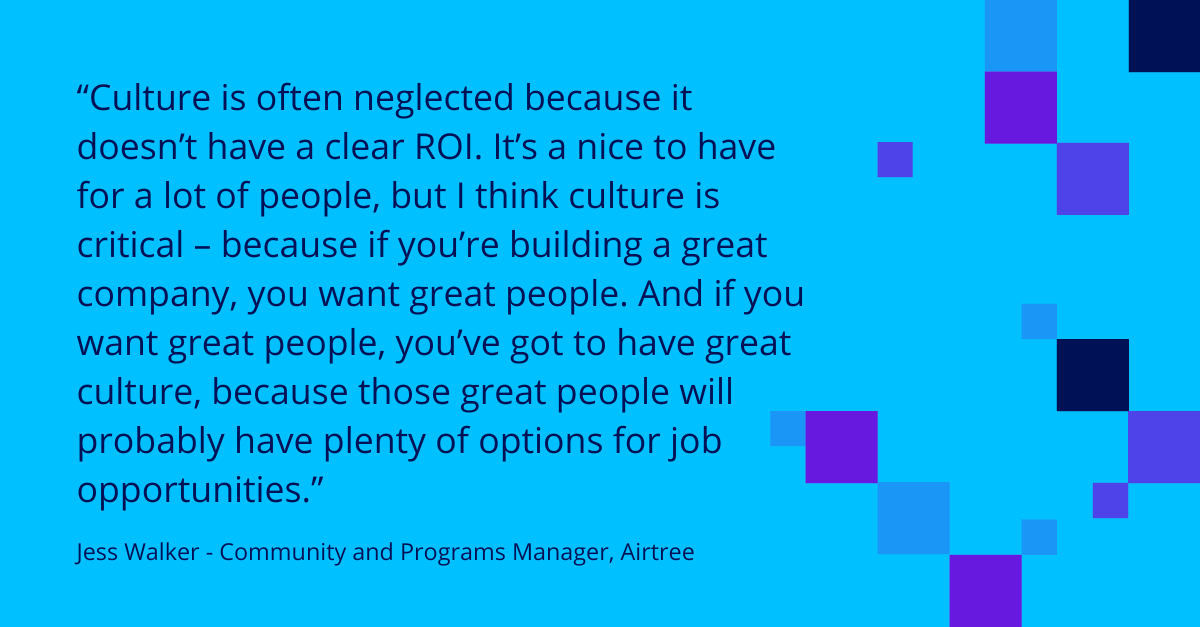 Make no mistake, though: Jess has no delusions about the challenges for founders operating in these conditions. She urges founders to be prepared for anything and everything, to ensure they're ready for the storm ahead.
"Plan for the worst. Have all your contingency plans ready to go, because we don't know what the market is going to be doing. Plan for tough times and be prepared for them, and try to make your runways – in all senses of financial, founder and team – extend."
"If you survive, you will gain market share."
On that note, however, Jess firmly believes founders shouldn't compromise culture for cashflow. Ever the people person, she advocates for having the right culture, especially when times are tough.
"Culture is often neglected because it doesn't have a clear ROI. It's a nice to have for a lot of people, but I think culture is critical – because if you're building a great company, you want great people. And if you want great people, you've got to have great culture, because those great people will probably have plenty of options for job opportunities."
"It starts with you as the founder, from day one."
It's about founder runway, not just financial runway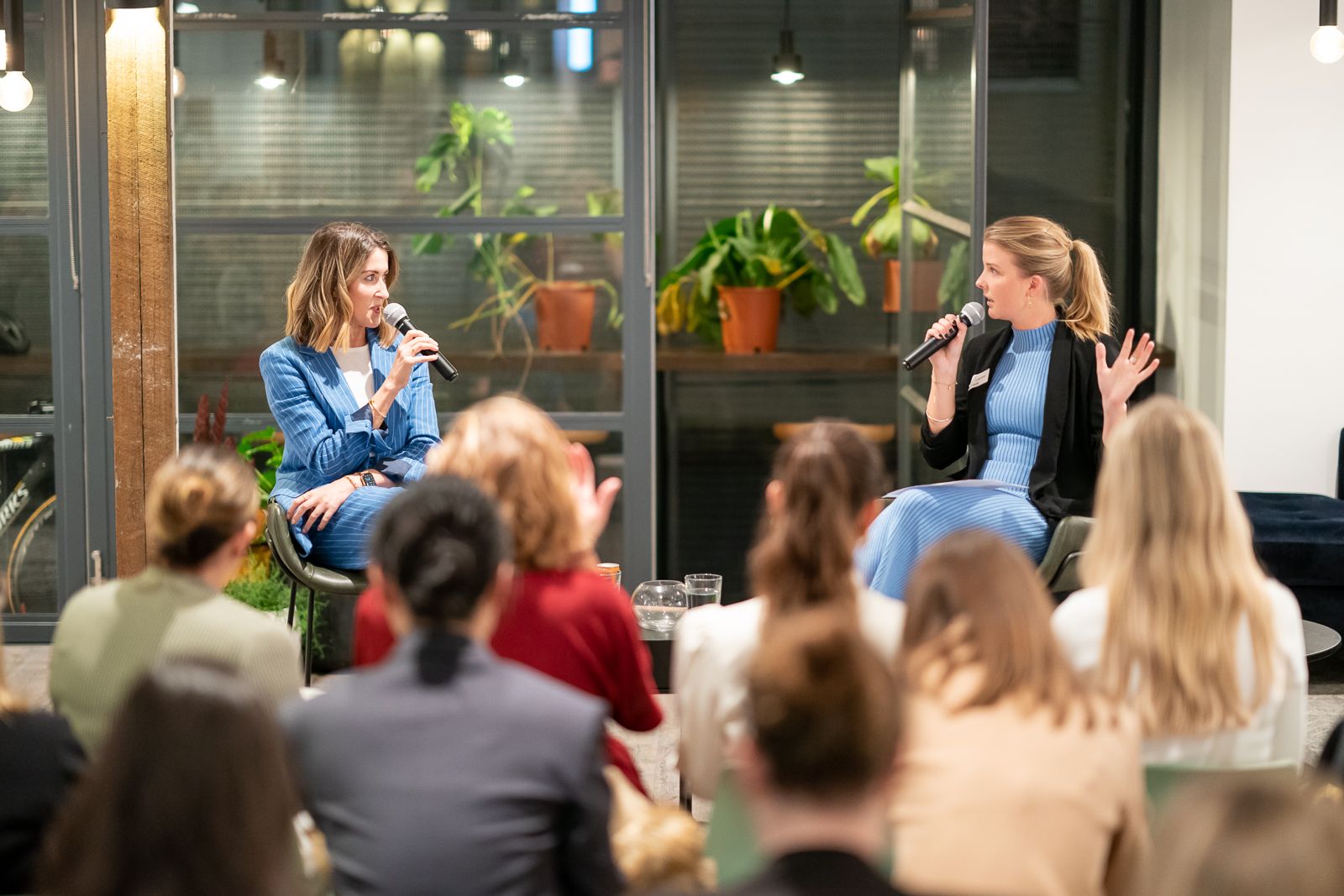 Jess speaking to Kate Morris, founder of Adore Beauty
Throughout our conversations, it's undeniable that Jess is an advocate for founders – but she also understands how demanding and lonely the journey can be, even if you're driven by purpose. Founder resilience is a topic she comes back to time and time again, and it's something she believes many founders (herself included) aren't prepared for.
"One of the biggest things that makes or breaks a successful startup is resilience with the founder or founders," she reflects.
"If you're a solo founder, it's all about resilience. You talk about financial runway, but there's that founder runway as well. How long until you break? How long until you're too exhausted? That's a huge piece that's overlooked. A lot of the time when companies stop, it's not necessarily because of funding. It's because the founder is mentally and physically and emotionally completely exhausted."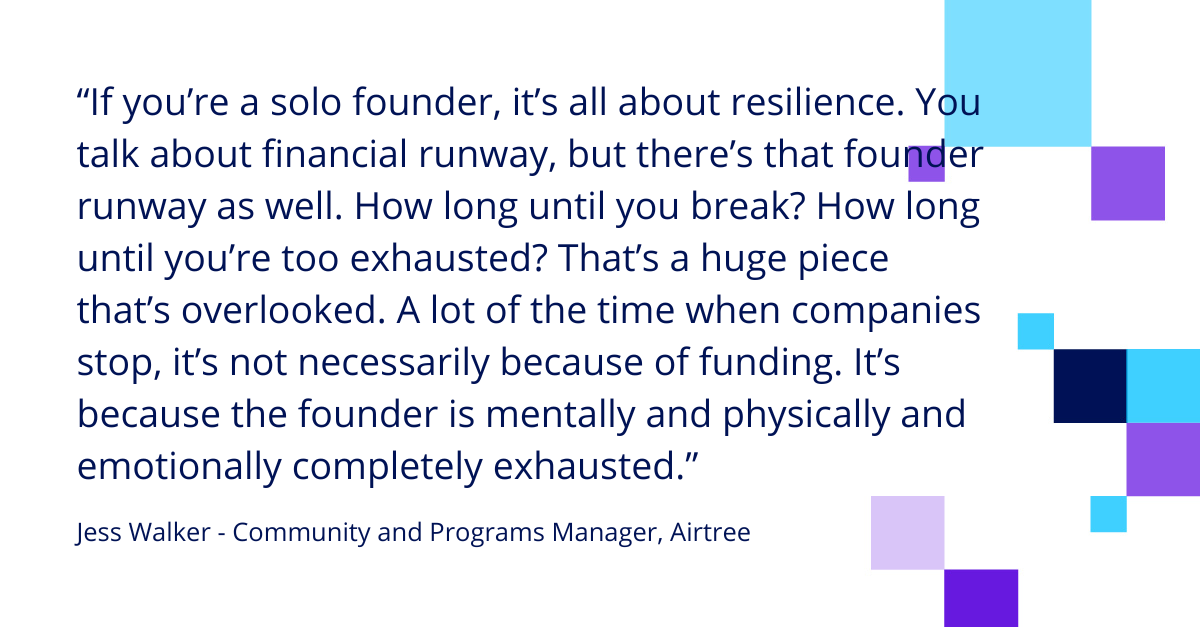 She likens this to her experience building Idle, where she said she hit the point of being so burnt out that she either had to get someone to manage it or sell it, because she didn't know how much longer she had in her.
"The founder breakup piece is huge as well. You can know someone for your whole life, build a company with them, then end up hating them and breaking up. Sometimes it's fine because when one founder leaves the business survives, but a lot of the time it really crushes the company."
Yet at the end of the day, despite all the challenges and hurdles of building something from scratch, she says she would be up for the challenge again in the future.
"If I weren't in VC, I would be doing one of two things – building a fund or building a new company. I don't know what it would look like and I'm not ready to do it right now, but one day, I'll do it all over again."
Registrations are now open for Cohort 6 of the Explorers Program. To learn more about Explorers or Pioneers, visit the Airtree website.