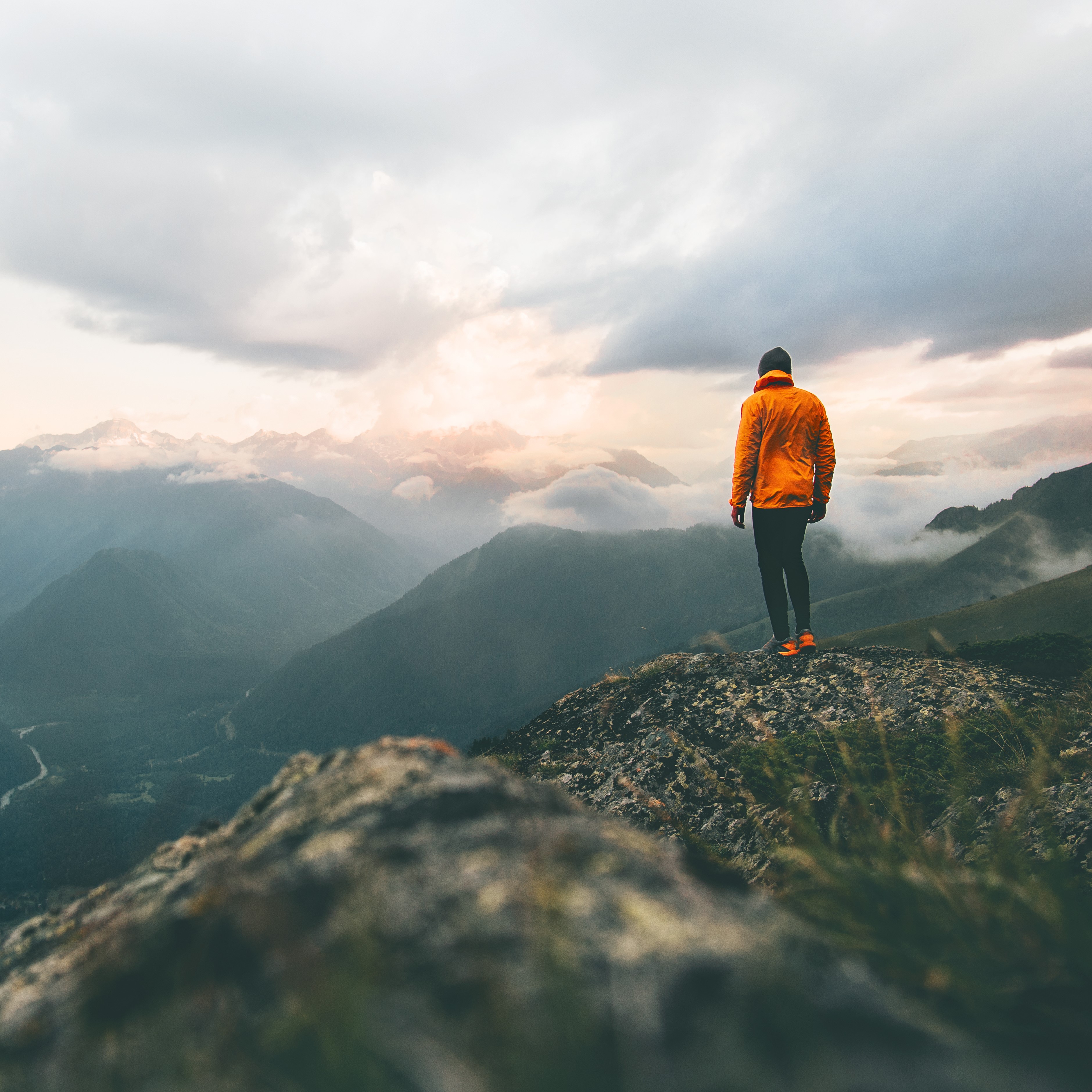 It's no secret that the funding environment in 2023 is tough.
According to the 2023 Australian Climate Tech Industry Report, 40% of founders say securing investment is their primary challenge. This is despite the fact that investment in climate tech has held up better than many other industries to become one of the top five funded sectors in 2023.

With climate techs intending to raise $1.5 billion in the next 12 months and the rapid growth in climate techs (up 29% from 2022), founders often need to differentiate themselves and demonstrate a compelling impact and commercial proposition to secure investment.

So, how do climate tech founders ready themselves to raise capital? We spoke to an investor, climate tech director and KPMG Partner to get their take on how founders can prepare.
Prefer to watch? Check out our most recent Lunch & Learn session with Climate Salad.
1. Marry commercial potential with purpose

When it comes to impact, climate techs can describe their qualitative climate impact ambitions well. But purpose and profitability need to go hand in hand to build a company that can deliver the maximum impact possible over a sustained period.
"We see a tendency for founders to focus on the impact they are creating and not adequately articulating their commercial potential. Investors need to see the commercial opportunity laid out clearly, because they have obligations to their lending partners (LPs). Many understand the value of impact, but are only able to invest if it's also a viable commercial opportunity with potential for growth," says Kylie Little, Director of Climate Tech at KPMG High Growth Ventures.
This is particularly important for companies going for a Series A raise, as expectations from investors at this stage are that founders can demonstrate the commercial viability of their company.
"At Series A, it's more about getting that sales engine going and really having the repeatable sales – demonstrating that there's been month on month growth from your seed stage and being able to share with investors that there is a trajectory for further growth," says Rachel Yang, Partner at Giant Leap.
In practice, this means being able to demonstrate:
Capital return, or capital efficiency (i.e. the financial return on the capital invested)
Organic growth and projected future growth
Financial models and forecasting based on investment required
Pathway to profitability, particularly if you are pre-revenue
"Where we've seen the most success is where founders map financial models to impact models to demonstrate that their startup is achieving both," Kylie adds.
2. Explore other avenues for funding
With VCs being more prudent, founders are looking to other sources of funding to help fuel growth. Angel investors, family offices, and impact funds are top of the list when it comes to alternative sources of funding, particularly given the increased focus from family offices on ethical investments.

"Our family offices report that access to deal flow is their biggest challenge, which is conversely represented by founders saying they either can't find family offices or struggle to get their message across. Importantly, both family offices and founders in this space believe that climate change is the investment opportunity of a lifetime," says Josh Geelan, Partner at KPMG Australia.

The trickiest part, Josh says, is getting in front of these family offices. Although they are notoriously private, Josh says there are opportunities for founders to build their profile amongst these investors.

"In my experience, they certainly monitor the watering holes – so Climate Salad, Innovation Bay, Startmate, Launch Vic, and so on," he says.
"One of the easiest things you can do for those forums that are free or quite affordable is to be there and be visible. Make sure you're seen in multiple watering holes, as our family office clients will be watching. Where they see those same startups and founders coming through, that gives them confidence and you start building credibility. After that, they'll reach out to you."
When founders do find those investors, Kylie says it's important to have a strong financial and impact narrative ready to go.
"It's important to remember that while family office and impact investors may be more focused on impact, they still want to see that your investment case stacks up," says Kylie. "This means the founders that are viable, clear and strategic with their positioning and their commercials will stand out from the crowd."
3. Model impact as well as commercial outcomes
One of the other key findings that came out of the 2023 Australian Climate Tech Industry Report was that while the majority of founders are able to articulate their qualitative ambitions well, two thirds are unable to quantify their impact. However, those that can quantify their climate impact alongside their commercial impact will stand a far greater chance of receiving investment – and equally as importantly, securing customers.

"This is the case for one reusable tupperware startup we've come across, which is leveraging climate impact modelling to help them articulate the financial and non-financial performance of venues using their products versus alternatives," says Kylie.

By mapping out the life cycle of their reusable items versus competitors – such as single-use plastics, aluminium, and glass – the founders will be able to articulate exactly how cost-effective their solution is from multiple angles, including the cost of manufacturing, cost of waste removal and transportation, and revenue uplifts as a growing number of consumers opt for reusable items.

"Communicating on impact for the end-user, the customer, helps founders quantify the product's value to both investors and customers. We see this approach working with a range of startups, particularly those with physical products, such as in agrifood, renewables and storage, and circular economy," says Kylie.
4. Be on the front foot with governance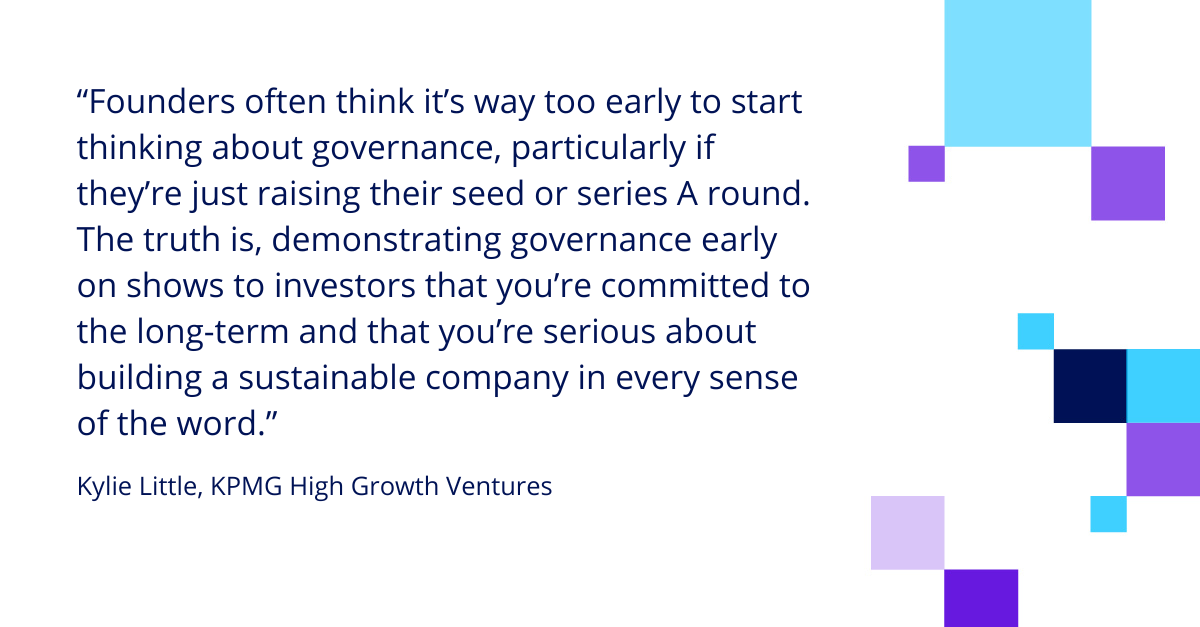 Investors are looking for good governance. They want to see that founders have operating models that are prepared to support the company as it scales in size and complexity – and they're taking the time to conduct due diligence (DD) on every aspect of the business.

The stakes only get higher as founders look to acquisition, whether in Australia or overseas. According to a KPMG study on due diligence in mergers and acquisitions, over half of all dealmakers have cancelled deals on ESG due diligence findings.

Having everything ready to go can significantly help reduce the DD process while also strengthening the startup's position in the eyes of investors.

"Founders often think it's way too early to start thinking about governance, particularly if they're just raising their seed or series A round. The truth is, demonstrating governance early on shows to investors that you're committed to the long-term and that you're serious about building a sustainable company in every sense of the word," says Kylie.

ESG, cybersecurity, risk and board processes are all critical to a fast-growing climate tech startup and showing that you've actively incorporated these into your company – or at least have thought about it – can play in your favour when reaching out to investors or to buyers.

"In particular, ESG is important, as climate techs are expected to leaders in this space," Kylie adds.
Preparing to raise?
KPMG High Growth Ventures is here to help.
Whether you're looking to demonstrate commercial and impact modelling or support your existing finance team, we can support you to articulate your financial and impact narrative to investors.
Contact us now to schedule your free discovery call.