Jim Fader is brewing the future – literally.
The founder of high-impact startup Eden Brew, Jim is on a mission to transform the dairy industry by producing precision-fermented cow's milk…without the cow.
"We 'brew' nature-identical proteins, blend with nutrition, and voila--milk without the cow. Being nature-identical means our products have the same authentic dairy sensory and nutritional delivery we love from dairy," explains Jim.
It's not just milk either. Eden Brew's incredible technology holds the potential to transform the entire dairy industry, from milk to ice cream, cheese, yoghurt and more.
"Our mission is to have planetary impact by doing this at significant scale and putting delicious dairy at the forefront of sustainable food manufacturing."
Addressing the global protein challenge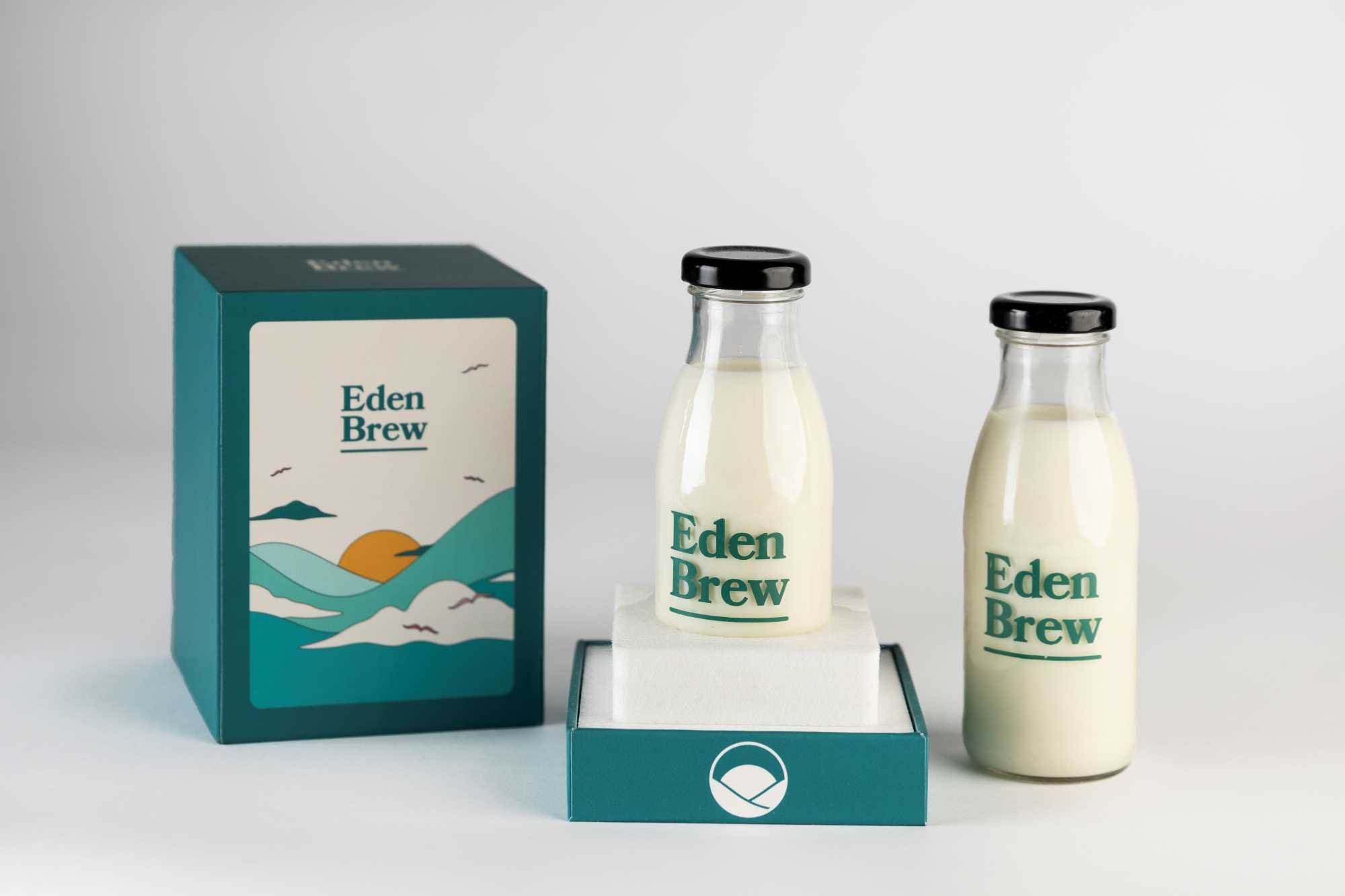 Photo: Eden Brew
The idea for Eden Brew was born from Jim's unique perspective, cultivated over 25 years in FMCG retailing, product development and food manufacturing. Over his career, Jim has had deep exposure in many industries – experience that he credits as integral to where he has ended up today.
"From visiting prawn farms in Thailand and French fry factories in Europe, to running business units in pet care, baby care, dairy and all fresh foods, my breadth of business development across industry has built an entrepreneurial mindset," says Jim.
When he read about a forecast increase in global protein consumption of 50% to 100% over the next 25 years, Jim knew it was time to do something. He started looking into alt-protein in 2018, exploring its potential to assist in addressing the demand increase in a sustainable way.
"We have never faced a food challenge like this in our history," says Jim.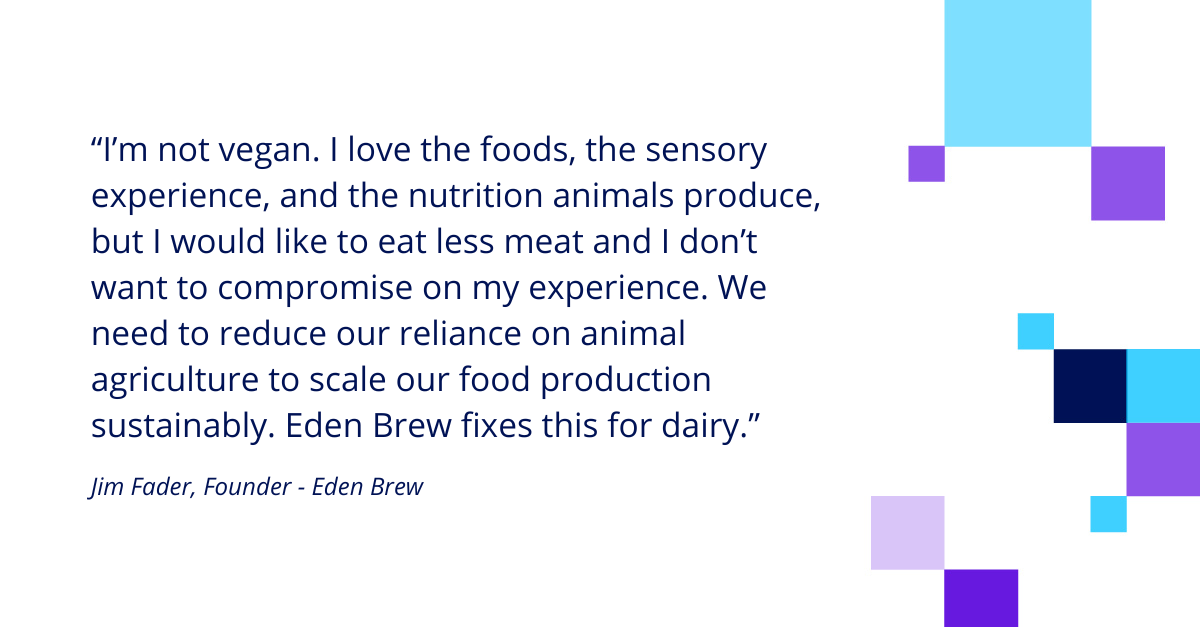 Precisely the technology we needed
So what exactly is precision-fermented dairy? Rather than being an alt-protein, like oat or almond milk, Eden Brew is unique in the sense that its proteins are exactly the same as cow's dairy – just made in a different way.
"Over 90% of the protein in milk is down to 6 proteins – 2 whey and 4 caseins. The 4 caseins naturally bind together with much of the nutrition in milk, such as calcium, to form a casein micelle," explains Jim.
"As we digest these proteins in the micelle, we also digest the nutrition 'tangled up' in the micelle – it's how nature makes nutrition bioavailable to the baby. The AMAZING team in CSIRO have worked out how to recreate this micelle with the proteins we brew.
"The micelle makes the milk white (calcium), heat stable (pasteurisation, processing into cheese and yoghurt) and gives it structure, so we can froth in our coffee. So, we can make authentic products, with bioavailable nutrition the way nature intended, which tastes exactly the same," he adds.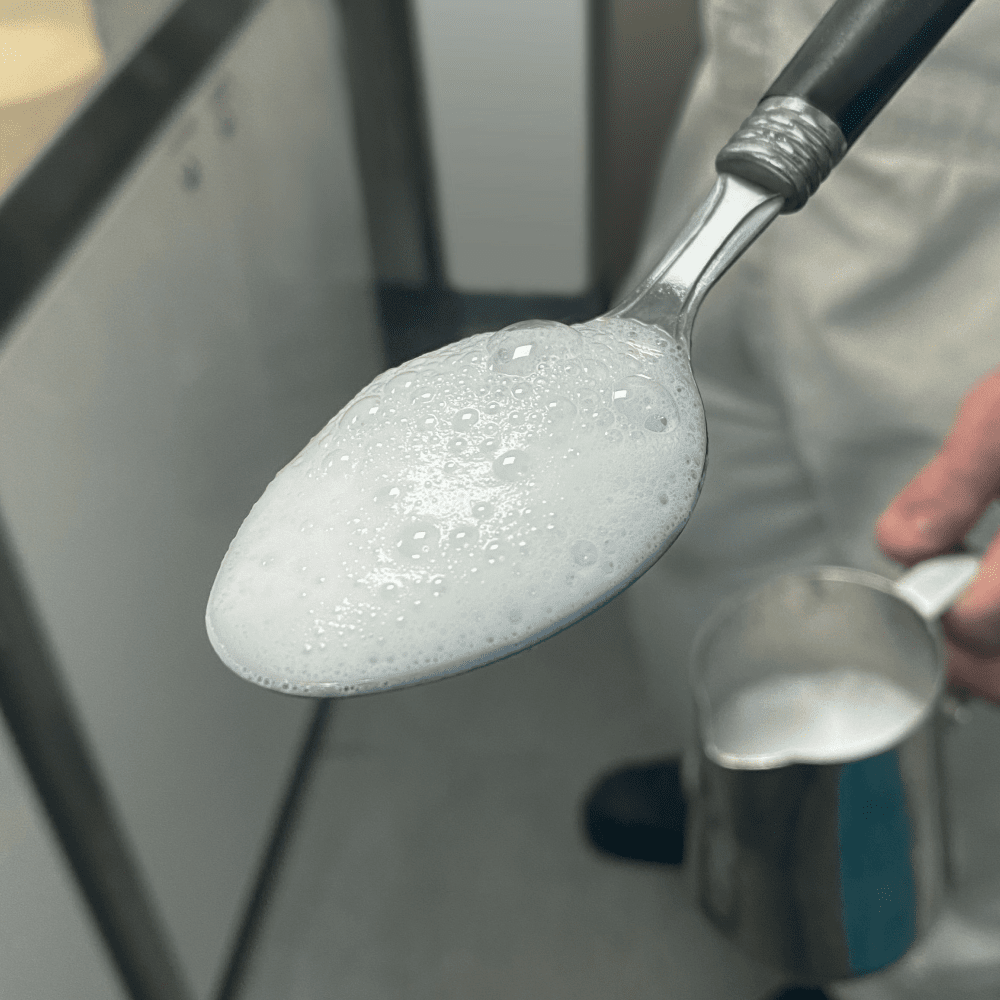 Photo: Eden Brew
A team forging a new dawn for dairy
Eden Brew's technology is, without a doubt, incredibly impressive. But Jim says the true highlight of his journey is the calibre of people who have rallied behind Eden Brew to make it happen.
"From our co-founders (CSIRO, NORCO Dairies and Main Sequence Ventures) to our leadership team in Eden Brew, who each have significant career history and who have joined for the sense of purpose and challenge to build this business," says Jim.
"I am very proud of the culture we are building together. I feel like I'm working on a hobby with friends, except it's a start up and I am often awake at night!"
And while it's evident Jim loves what he does, he doesn't try to hide the fact that there are plenty of challenges along the way.
"One of the biggest challenges is sitting in a room with world-class scientists, trying to lead a business development agenda when I understand about every third word," says Jim.
"Commercialising deep tech, when we don't know what we don't know and we need to prioritise milestones and outcomes to meet diverse stakeholder outcomes--from investor to researcher, marketer and more--is very hard."
That's where Jim says that support from KPMG High Growth Ventures has been invaluable.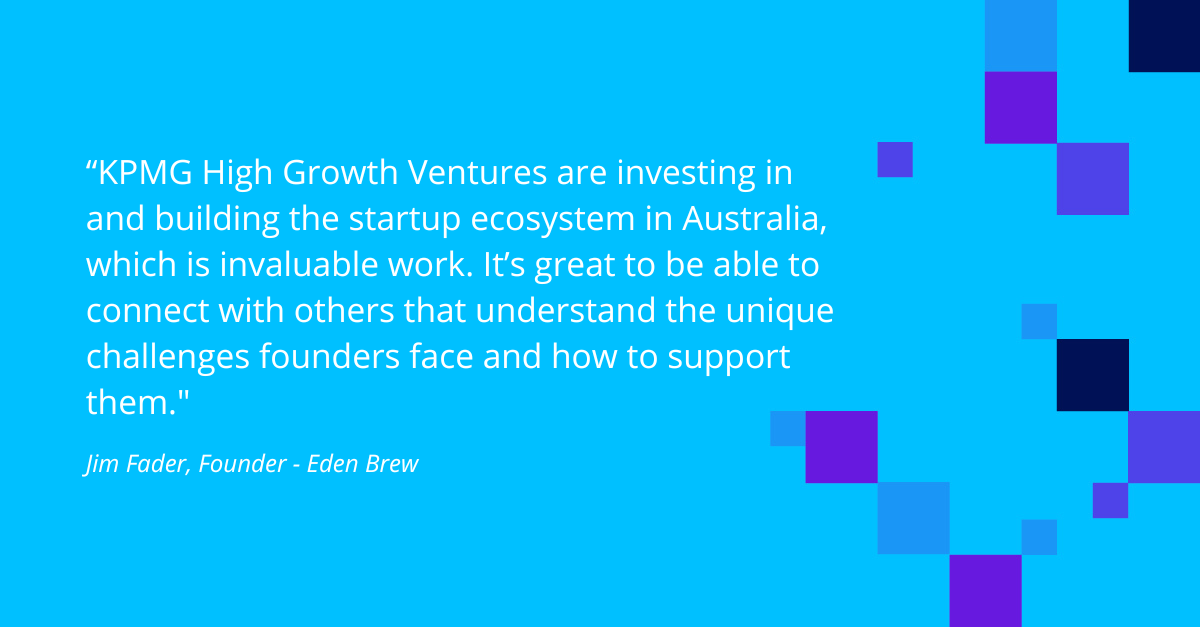 "I found their workshop on ESG really helpful. KPMG have assisted me with corporate structuring, tax advice and R&D Tax credits also. Providing the breadth of support saves me time and complexity. It goes without saying the quality of work is exceptional."
ON THE HORIZON
With the recent announcement that Eden Brew's lab-grown milk is expected to hit shelves by 2024, it should come as no surprise that Jim has big plans for the future of Eden Brew.
"We're looking to close our Series A raise and manufacture our first ice cream within the next 2 months. Resources from our raise will establish our in-house science team who will partner with CSIRO to push our progress faster. We launch ice cream in December next year and animal-free milk the following August '24," says Jim.
For aspiring founders, Jim offers one final – but crucial – piece of advice.
"Dream big, run hard, consult broadly, stay positive. It's a roller coaster, so if you are in a down, an up is around the corner, and vice versa. Celebrate your successes, but keep some energy for tomorrow. Prioritise yourself – founders feed last and give everything to the business. If you aren't at your best, the business feels it."
Looking to scale up for success? Get in touch and learn how KPMG High Growth Ventures helps founders and their teams reach their next milestone, from startup to scale and beyond.