In 2003, scientists successfully sequenced 90% of the human genome.
Regarded as one of the biggest scientific breakthroughs in modern history, The Human Genome Project was a game changer for the medical field. It promised to help improve our understanding of inherited diseases and even develop genetically targeted medicines to treat diseases, from cancer to heart attacks and strokes. However, the outcomes have been largely inaccessible due to the high cost of genome sequencing – until now.
Thanks to continued advances in technology and Eugene co-founders Kunal Kalro and Zoë Milgrom, the benefits of genome sequencing are literally at our fingertips. And, just as it did 20 years ago, this technology has the potential to transform healthcare as we know it.

Good health starts with good (Eu)genes
"We're passionate about creating a world where healthcare is about preventing illness, rather than just treating it. The knowledge to predict and prevent health issues before they happen is literally in our DNA. All we need are the right tools and support to access it."
It comes as no surprise that these are the first words Kunal Kalro responds with when asked what Eugene does. After all, equitable healthcare is embedded in Eugene's DNA.
Founded in 2017, Eugene offers medical-grade genetic testing and counselling services to people anywhere at any time. With a few drops of saliva, Eugene can identify variations in genes that may lead to disease, allowing people to proactively take control of their own health.
"When you unlock this knowledge, you can make empowered health decisions - whether it's when you're starting a family or keeping healthy for years to come," says Kunal.
Eugene first started when Zoe and Kunal were introduced through Zoe's husband who, coincidentally, also turned out to be one of their earliest investors. They both shared a vision for the world they wanted to create – Kunal, from losing his father to inherited heart disease, and Zoe, who supported people through many difficult stages of life in her work as a Genetic Counsellor at The Royal Women's Hospital, Sydney Children's Hospitals Network, and Melbourne IVF.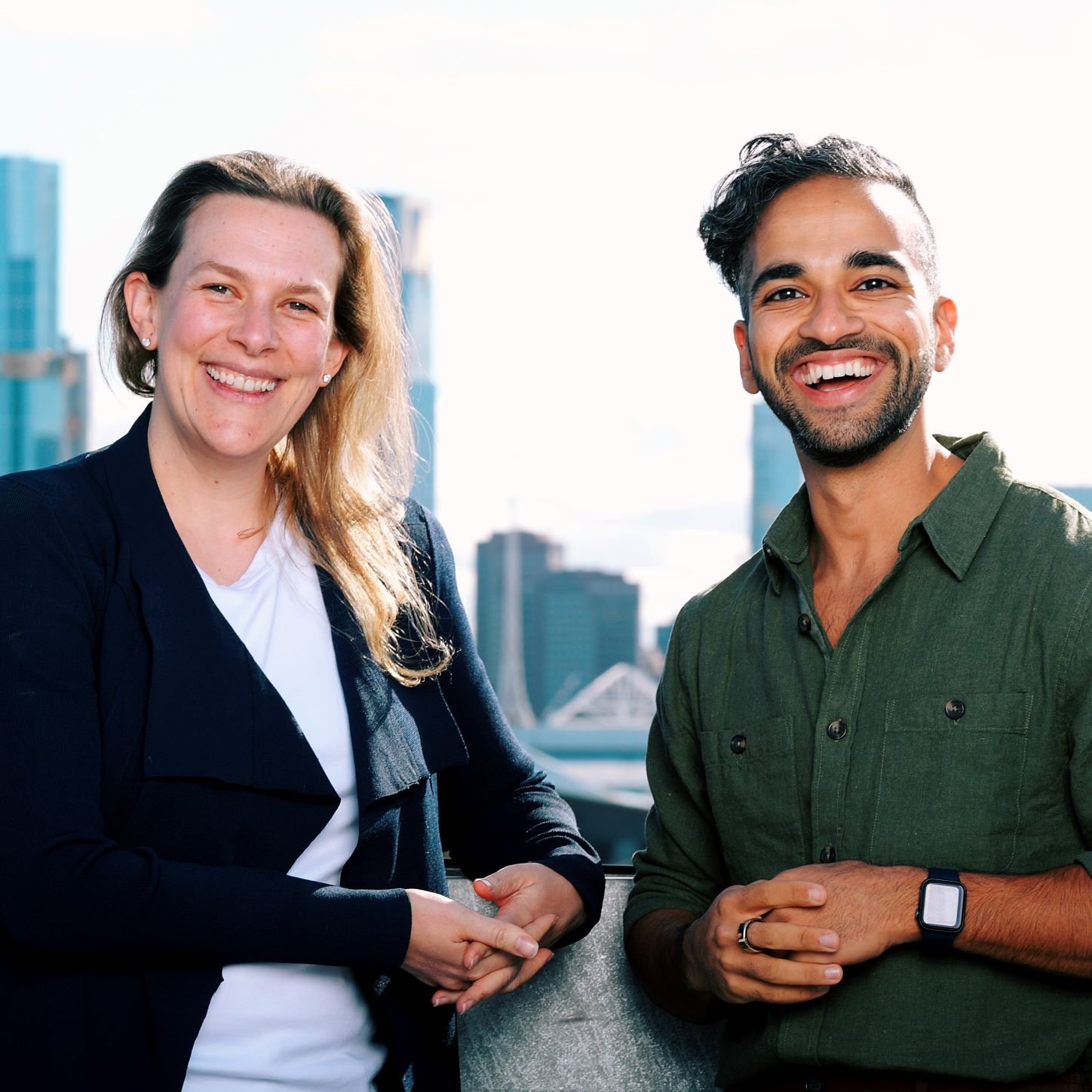 Eugene co-founders Zoë Milgrom (left) and Kunal Kalro (right).
From this, Eugene was born.
"Though we had found our way to the power and potential of genomics through such different paths, me through entrepreneurship and Zoe through clinical work, we were always aligned in what we wanted to create and the impact we wanted to make," Kunal reflects.
"Every day since we began, we've been on a mission to help all families gain personal knowledge about their genetics, predict and prevent health issues before they happen, and be empowered to own their health journey from start to finish."
A test you'll want to take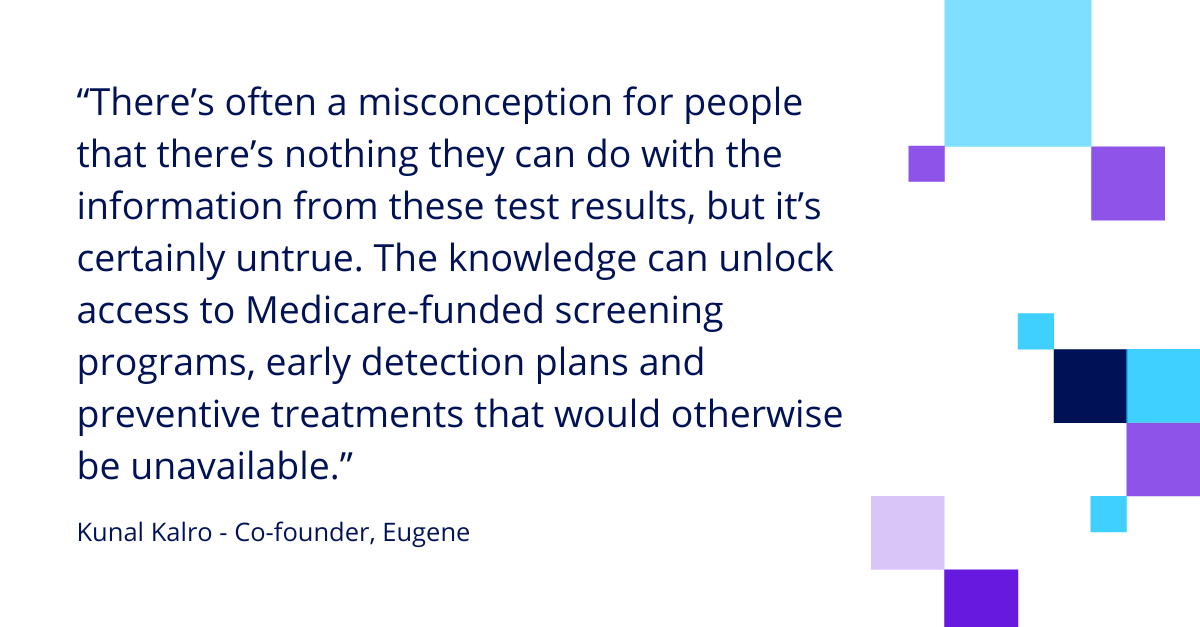 Up until now, in-home testing has been challenging because of the sheer cost and effort involved. When the human genome was first sequenced in 2003, it took 15 years and cost $2.7 billion. Today, that figure is closer to $1,000 and falling rapidly, thanks to new technologies such as next-generation sequencing (NGS).
Using NGS, Eugene can read human DNA code much faster and cheaper than older methods.
"In the past, we would have to read one small piece of DNA at a time, but with NGS, millions of small pieces of DNA can be read at once. This has revolutionised the field of genetics, making it easier to study and understand genetic disorders and diseases. It's used to identify variations in genes that may lead to disease. It's also used to study the genetics of entire populations helping researchers understand how diseases and traits are inherited."
Eugene currently uses this technology to offer testing for pregnancy, cancer risks, and heart health. In particular, Kunal says Eugene's pregnancy carrier tests have provided a glimpse into the sheer impact that this technology offers.
"I personally think the level of awareness driven by doctors and healthcare practitioners to make this part of routine care has been a huge contributing force. Additionally, we've seen that people are often much more proactive when it comes to their kids' health," he says.
This is particularly important, he adds, because proactive healthcare in areas like cancer and heart disease have a long way to go.
"There is a reasonable sense of fear of having knowledge of your risk for a lot of folks. I myself can attest to this as I lost my dad to heart disease," he adds.
"There's often a misconception for people that there's nothing they can do with the information from these test results, but it's certainly untrue. The knowledge can unlock access to Medicare-funded screening programs, early detection plans and preventive treatments that would otherwise be unavailable.
"Moreover, personal knowledge can also guide lifestyle changes and approaches to improve people's chances of preventing the condition or catching it early when its treatable," he says.
A constant balancing act
While Kunal says many clinicians have been supportive of Eugene's vision and technology, it's a constant battle to strike the right balance between revolutionary and evolutionary.
"A lot of startups choose between complete disruption or working within the status quo to make progressive change and it becomes their modus operandi. We believe that both approaches can be valuable depending on the context. The challenge is to know which one to deploy when," he says.
"There have been times we needed to really push the envelope against the systemic issues in the healthcare system, the bureaucracy in advancing research and the paternalistic attitudes in health services to deliver better and more efficient care to people.
"On the flip side, there have been just as many that times we needed to build bridges with doctors, specialists and other healthcare providers so that our customers can get holistic care they deserve and be able to use Eugene test results at their respective doctors' clinics to make important health decisions," he adds.
The wins, however, far outweigh the challenges – and there are many.
Eugene was the first company in Australia to make medical grade genetic testing available to consumers directly and at-home, and has screened over 12,000 people across Australia. Moreover, the team is actively changing the way that clinicians and researchers are thinking about healthcare.
"Our efforts to launch and drive more ethnically inclusive carrier screening has helped create and cement a new category and normalised this type of screening before and in pregnancy. We've also found and established new gene variation data that has contributed to the pool of knowledge about the rare genetic conditions, internationally," says Kunal.
These achievements are even incredible when put in the context of the past three years.
"We've built a purpose-driven company that has thrived through the trials and tribulations of the multitude of world crisis' and continues to do work that matters. We've taken the power of genomics beyond its theoretical and potential benefit to help thousands of people access the tangible and practical benefit of predictive and preventive healthcare.
"We've done all this because of the tireless work of our amazing team, backed by our very supportive investors who have always believed in the vision of what we are trying to create at Eugene," says Kunal.
Kunal also says that this work has been enabled by the support of KPMG High Growth Ventures.
"We're a fast-growing team and I have a strong belief that the accounting and finance function of any organisation is meant to be an enabler for the company and the team to reach their goals rather than a blocker. KPMG has been incredibly helpful in creating structure in our accounting and finance function so the team can be free to execute.
"The team has also been incredibly helpful in making key introductions for our market expansion plans."
Sequencing the future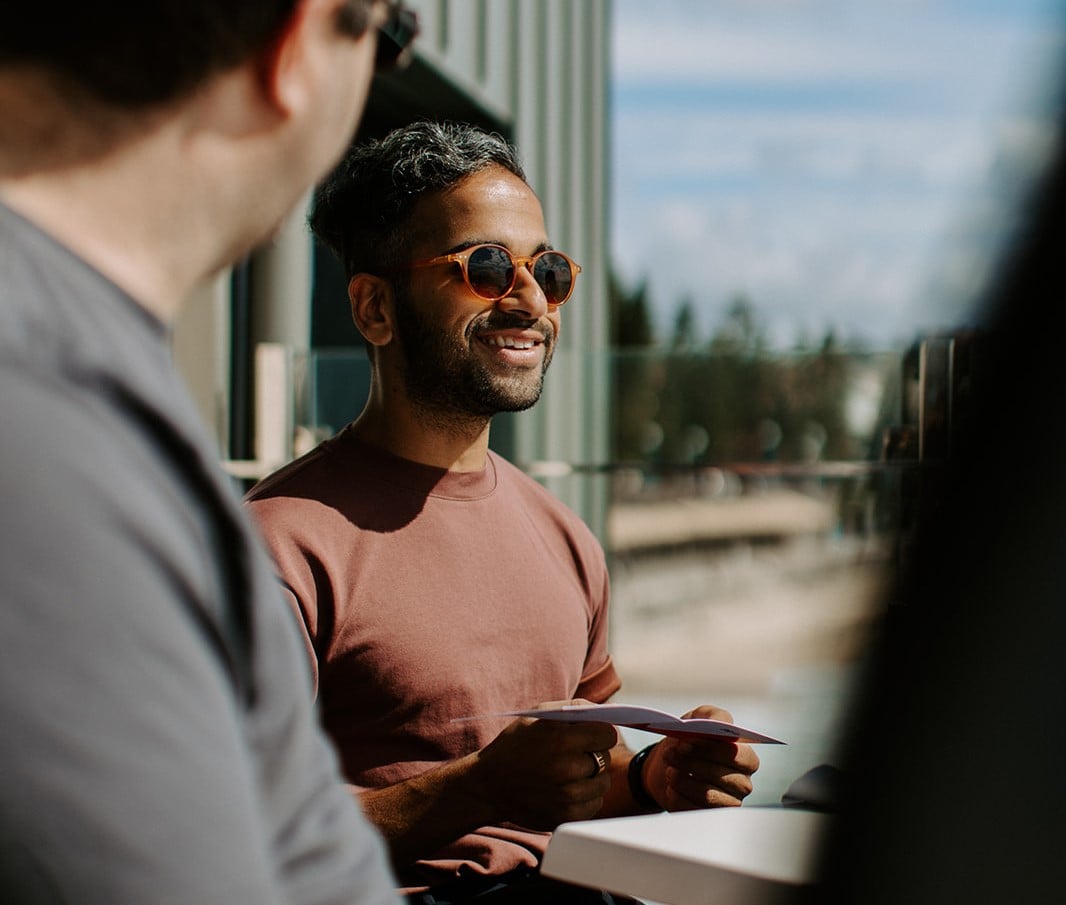 Eugene founder Kunal Kalro has a bold vision for the future.
Unsurprisingly, Kunal has learned plenty along his journey as an entrepreneur, from how to stay focused to how to hire and retain the talent needed to build an ambitious startup like Eugene. For founders, he offers two pieces of advice.
"Purpose is key. Work on stuff that matters. When the going gets tough and rest assured that it will, it helps to know that the work you do matters — to you, your community, and the world," he says.
"Second, find the right people who believe in the company's purpose. Skills can often be learned, but values and purpose alignment can't. Once you find the right people, do everything you can to keep them there. When you make mistakes on who you hire (and you will), be ruthless but fair and always lead with compassion."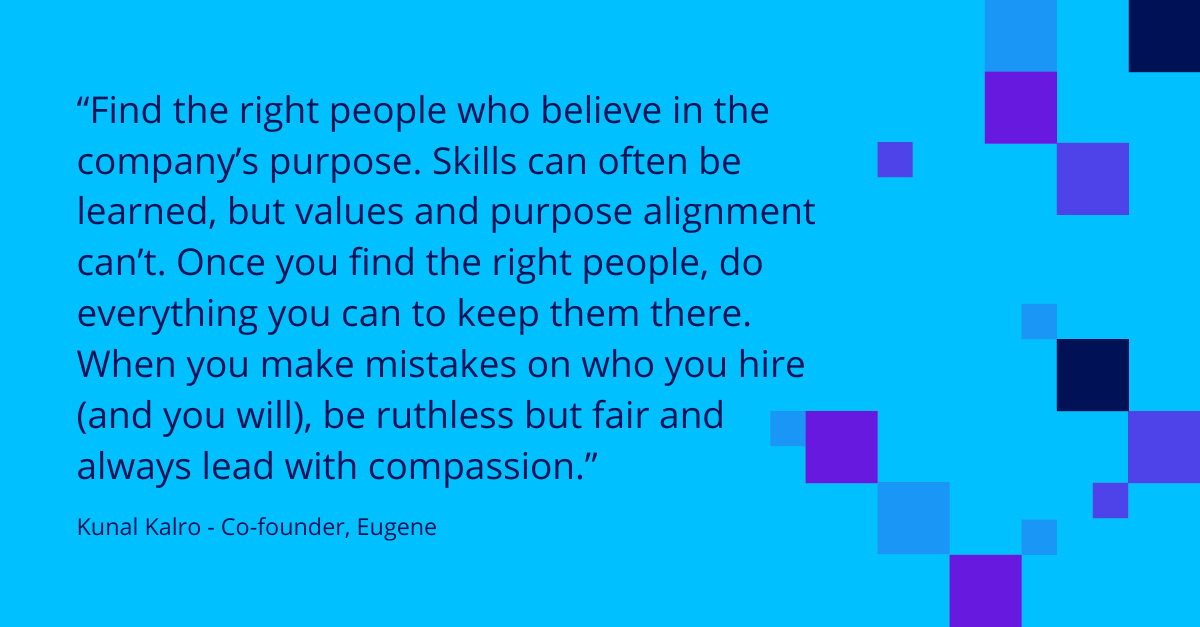 As for the future? Eugene's long game is to be able to offer individuals the opportunity to "sequence their DNA once, and get guidance for life".
"We truly believe that this will open the door for people to get a lot more personal healthcare value out of their genomic data over their lifetime. This would evolve the underlying technology from NGS to whole-genome or whole-exome sequencing."
Ultimately, the vision is to create a world where a person's genomic data enables, empowers, and enriches their quality of life.
"We see a world where people can own their genomic data and use the knowledge it provides to inform and guide everyday personal health decisions that help prevent disease and improve long-term health."
Looking to maximise capital and extend runway? Get in touch and learn how KPMG High Growth Ventures helps founders and their teams build sustainable, scalable businesses.