Australia's startup landscape is bigger than ever, and continuing to grow. And, at the heart of any thriving ecosystem is investment: investment in founders at the earliest stages of the journey, where resources are scarce, and pitfalls are aplenty.
If founders are going to change the game, they need to make waves that turn the tide — but they can't go at it alone.
That was the philosophy that spurred partners Grant McCarthy, Wendell Keuneman, and Murray Bleach to create Tidal Ventures in 2015. A seed-first venture capital fund that invests in early-stage Australian technology companies. Tidal Ventures is committed to helping founders build momentum as bold and courageous product-led companies, from seed to scale and beyond. Tidal's Partner team in Sydney includes Georgie Turner and Venture Partner Andrea Kowalski who is based in New York.
We sat down with Grant McCarthy, Managing Partner at Tidal Ventures, to talk about his journey as an investor, Tidal's investment discipline, and the advice that he'd give to founders raising venture capital in the current market conditions.
FROM NEWCASTLE TO NEW TECHNOLOGY
To trace Grant's unique trajectory to where he is today, you have to go back to the dotcom boom. After finishing his studies in Newcastle, Grant jumped headfirst into Yahoo as its 14th Australian employee, working across some of its earliest investments (the likes of which included Seek and Carsales).
"It was a phenomenal experience because in the early days, Yahoo was…the leader in all things new [for the web]. We got to try and do many different things, both with companies that were our customers but more importantly, companies that we were invested in. Yahoo didn't have a venture capital business at the time but Yahoo was leading in investment when it came to early stage businesses in South-East Asia," Grant told David Clark in a podcast interview for Inside the Rope.
After a stint in Yahoo's APAC headquarters in Singapore, Grant returned to Australia and co-founded Tidal Ventures along with Wendell Keuneman and Murray Bleach. The Tidal Team has a striking resume behind them, including Wendell's time at Atlassian and Georgie Turner's experience at Lazard and Rackspace, the three partners truly understand how to build and grow game-changing technology products.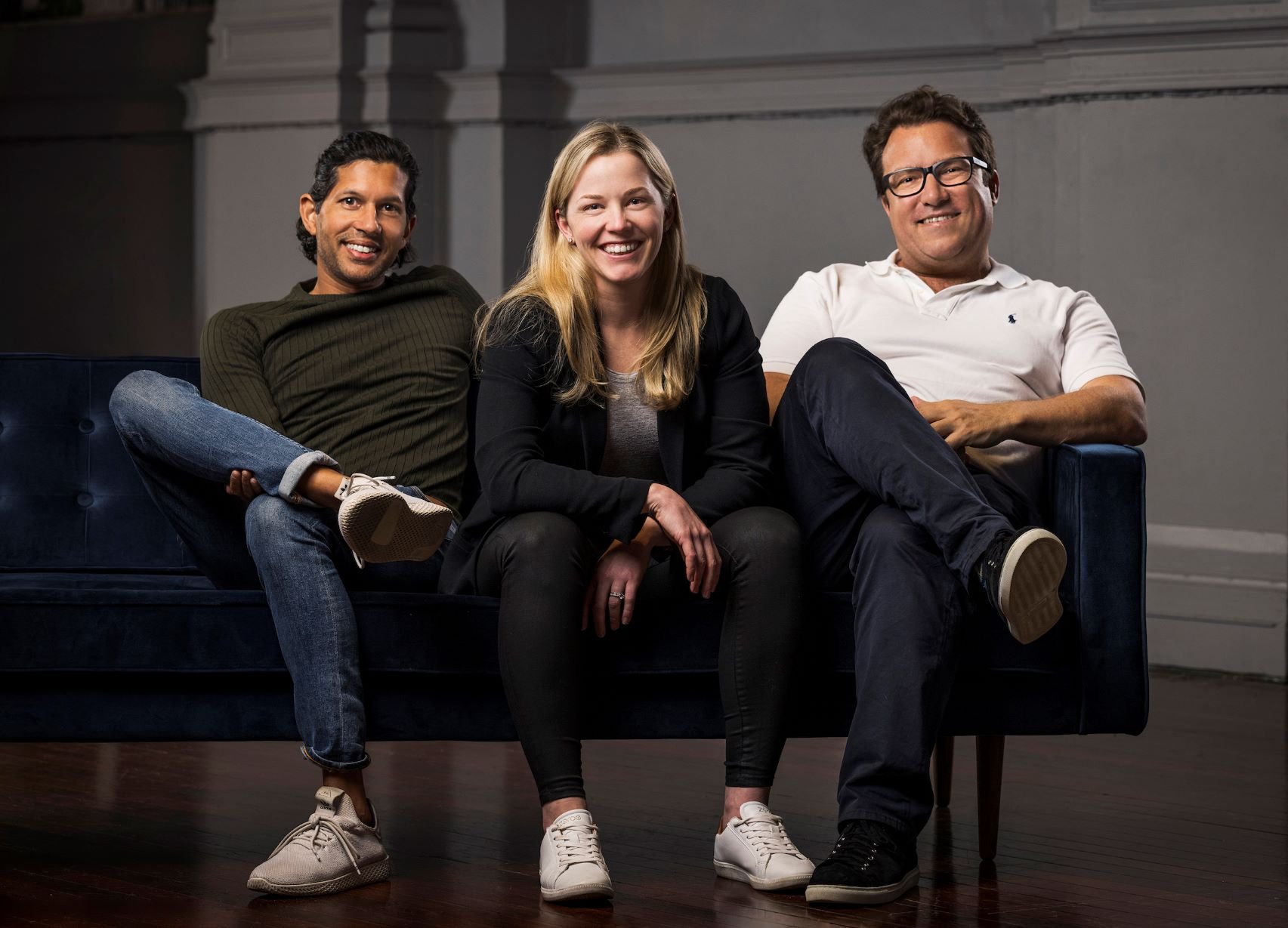 (Left to right) Wendell Keuneman, General Partner; Georgie Turner, Partner; Grant McCarthy, Managing Partner
Since then, Tidal Ventures has launched three seed funds including its recently announced Seed, Fund 3 which is an $80M fund. Grant and the team also launched the Tidal Follow-On Opportunity Fund in late 2021, which invests in later-stage startups.
Operator, we have an opportunity
One crucial element that sets Tidal Ventures apart from other firms is that it's operator-led – a model that Grant observed from the US in the mid-2010s. Unlike other venture capital VC firms that were led by investors, operator-led venture capital funds were started by ex-founders and people who had built tech businesses themselves. Operator-led venture firms have a clear purpose: to work closely with founders, providing them with insights and advice from investors who have been there, done that.
"Founders want partners that have experience in building and scaling businesses. All of Tidal's partners are from tech companies. It's not people with theories – it's people who have built products and rolled up our sleeves," says Grant.
"Our job is to help them through the process of getting to an institutional round of capital and to try (and) help them not make the same mistakes we all made when we were building our businesses. Those mistakes translate to two things founders never have enough of at that stage: time and money. Mistakes aren't bad. You're going to make them, but they're going to stuff up time and capital," he adds.
One of the most common (and costly) mistakes Grant sees with seed stage tech companies is the example of a founder who approaches an institutional investor, only to be knocked back without knowing why.
To illustrate this, Grant gives the classic example of a founder in the B2B software space that has good revenue and a strong product. It's all working, and they're gearing up to raise their series A. For operator-led investors, what happens next is all too familiar: they pitch their product and the investor lauds them with praise, but they also get told "you're too early".
"Most founders don't know what that means. What it really means is that they don't have the telemetry and information around the business for institutions to go through the due diligence needed to form an investment view of the return they're going to get on that portfolio company," Grant explains.
The wisdom and value that investors like Tidal Ventures provide is undeniable. Grant and the team at Tidal have funded a number of inspiring startups, including PredictHQ and Drive Yello. Yet the one that sticks out most to Grant is founders Rob Hango-Zada and William On from Shippit.
"The highlight has been watching their growth journey. Shippit started out as two guys that met at university, went out and did their corporate careers, then landed on this idea, started it and have grown a business with 300 people operating here and in Southeast Asia. Rob and Will are still acting as co-CEOs of the business and doing an awesome job of it," he says.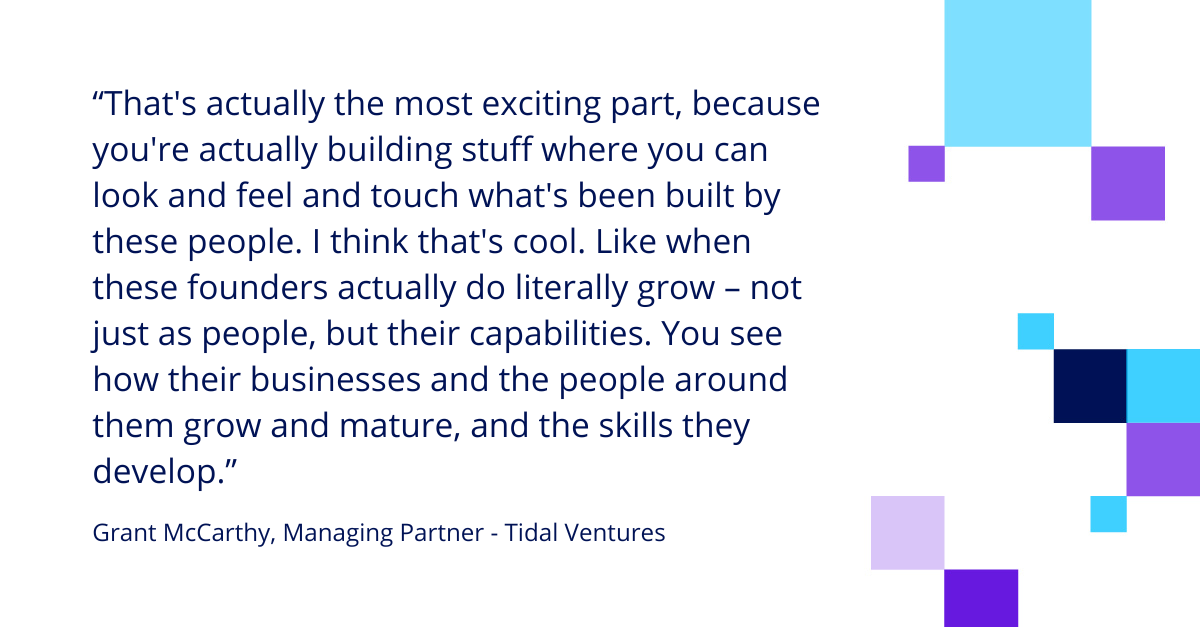 STRONG TAILWINDS FOR GROWTH
Although he proclaims not to be a rocket scientist, Grant says Tidal Ventures does have a clear hypothesis and principles that guide how they invest, which starts at the macro-thematic level. As an early-stage seed fund for technology companies, Tidal Ventures focuses on founders building a business in sectors with large tailwinds.
"As Marc Andreessen once said, software's eating the world and it's going to continue to do so. Where we get super interested is around these big macro tailwinds that are starting to align either between a market or a type of market and how technology is starting to accelerate the either business or the consumer change to make that adoption more quickly," he says.
This need isn't going away, even with the current climate. However, Grant says that early-stage technology companies need to get crystal clear on their plan and numbers if they want to secure capital in today's startup market.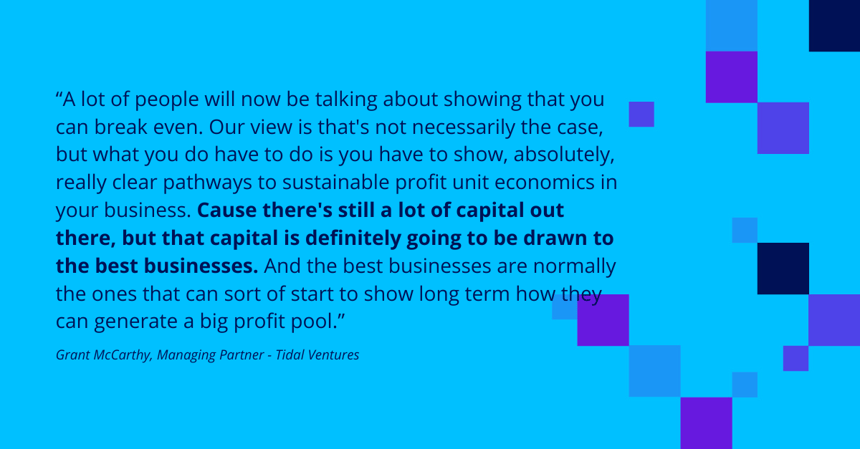 As far as for the near future, Grant offers one crucial piece of advice for founders: plan diligently, plan ahead.
"The velocity of deals is slowing down. Funds have much more time to take to learn about the companies, the founders, and the market, because the FOMO of the market that's been around for the last 18 months is sort of dissipating," he warns.
This means looking at capital cycles over six months, engaging with investors at the beginning of the cycle, and building a relationship with the venture capital principal or partner who can follow their founder journey.
"They can literally follow you and see that you are doing what you said you were going to do, that you've made mistakes and that you've learned from those and you've done the things: pivot, change – all that kind of stuff. Because these are the behaviours that we most care about. We most care about tenacity. Ability to change, ability to move really fast and make decisions fast. Ability to keep going when things look tough. Ability to manage your cash flow. You want to see the behaviour of how people do that over a period of time."
Learn more about Grant and Tidal Ventures here.