If you're wondering how Tenacious Ventures got its name, you have to look no further than Sarah Nolet.
An internationally recognised food systems expert turned investor, Sarah has been tenacious in her belief in the power of Australian innovators to build the global food systems of the future – and equally tenacious in her efforts to support founders along that journey.
As the co-founder and Managing Partner at Tenacious Ventures, Sarah and co-founder J. Matthew Pryor invest in startups building a more sustainable, resilient food & agriculture system.
With visionary startups such as Goterra, SwamFarm Robotics and Geora in its portfolio, it's no exaggeration to say Tenacious literally has a front-row seat to a carbon-neutral and climate change-resilient future.
We sat down with Sarah to talk about her journey into VC, what sets Tenacious apart from the rest, and her tips for founders on navigating 2023 and beyond.
An adventure into venture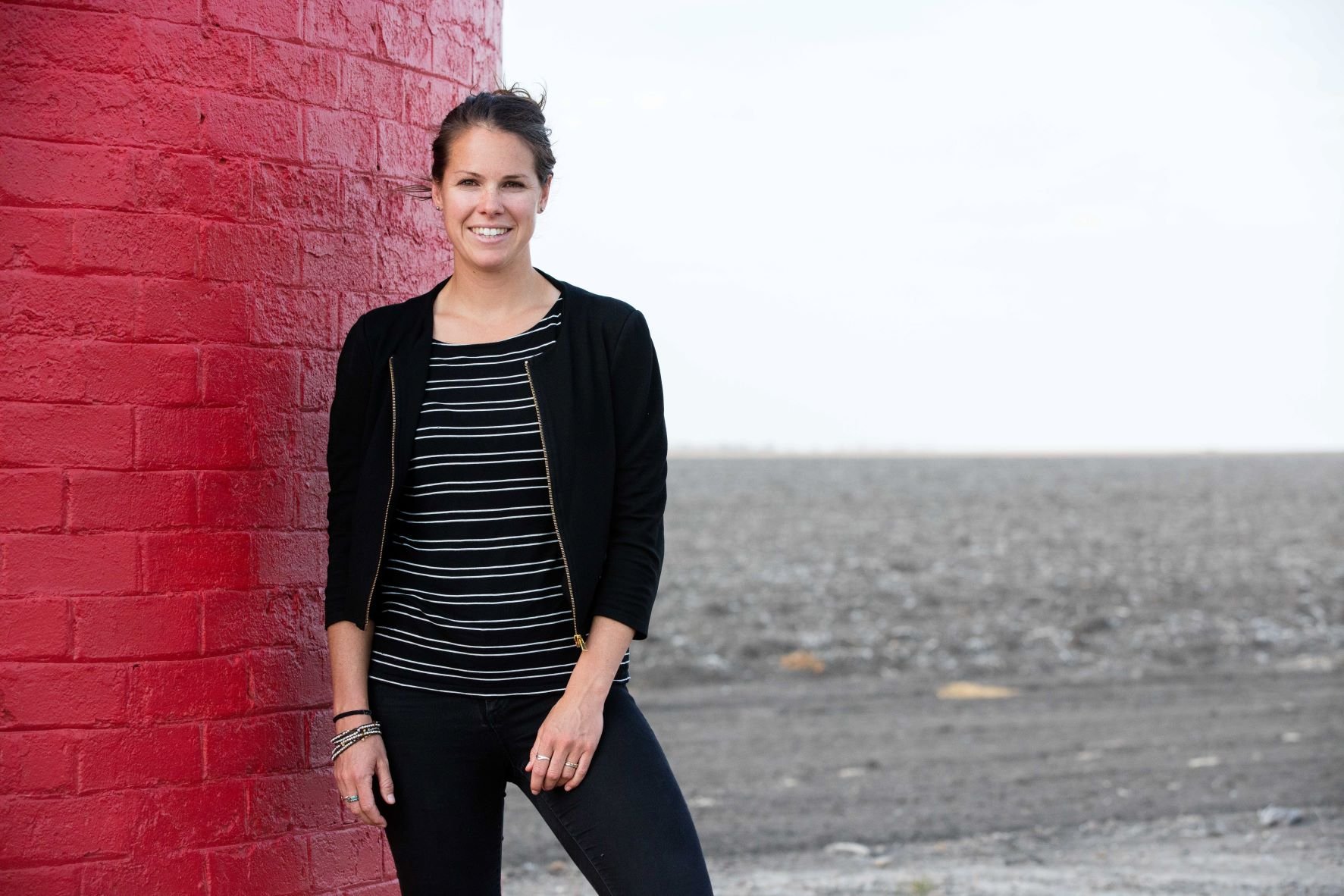 Sarah Nolet, co-founder and Managing Partner of Tenacious Ventures.
"Neither Matthew nor I set out to be investors," Sarah reflects when prompted to reflect on her journey until this point.
"What we did set out to do is think about food system transformation."
For Sarah, that journey started with a gap year in South America living on farms and seeing food systems first-hand, followed by time at Frontier Co-Op and the renowned MIT Sloan. She came to Australia shortly thereafter and found herself once again immersed in food systems as a consultant and advisor.
"I was working with startups, corporates, and industry, but I kept seeing how the real gap was around funding – and in particular, funding that really understood food and ag, and that was not going to invest only in software. In parallel, Matthew had been on the founder side of the table building companies," she says.
One thing was certain for both: Australia was a global leader when it came to agricultural innovation. We just didn't realise it yet.
"There was a lot of research, interest from corporates, and traditional research commercialisation, but we weren't doing a lot of venture capital style innovation. We both couldn't shake the feeling that Australia was punching well above its weight, but there hadn't been that 'unlock' code."
The two decided to open the black box and invest in agtech. Soon after that, Tenacious Ventures launched Fund I, followed by Fund II in September 2022.
AgTech, so what…?
Tenacious invests in startups operating across the food & ag value chain, but Sarah is very clear that their point of difference lies in how the team thinks about food systems and climate solutions – not just one or the other.
"Venture hasn't really been applied to agriculture for that long. If we just apply what's worked in other industries or what's worked in the past, we believe you'll leave a lot of value on the table. We can't just invest in software in food and agriculture, because you can't eat software. Software can't sequester carbon. We actually do need new approaches," she says.
"It's about building a resilient system, and that will lead to more adoption of technology and more returns, and that's what the system needs."
Witnessing the progress of innovation is what Sarah says has been the highlight of her time running a venture firm – and what she encourages founders to celebrate as well, particularly as the road to exit is often different than other sectors.
"When I lived in the consulting world, you'd win projects monthly or weekly. You'd get this kind of feedback loop or you'd deliver the project and get the client's feedback. But with investing, some of these are 10-year journeys. It's really good to shift to like what really matters and ask, 'what are really the highlights and indicators of true progress? What do we celebrate? What do we hang our hat on?"
"One of the big ones is seeing the companies and how much they've changed. Because you'll have an update and you'll talk to founders weekly, but it might've been a year since you've actually visited their site. And when you go back, the amount of change a company can undergo rapidly is so impactful," she says.
An episode of Tenacious Ventures' podcast, AgTech - So What?, which shares stories of innovators working at the intersection of agriculture and technology
One experience that sticks out to her is her experience visiting customers of SwamFarm Robotics, one of Tenacious' portfolio companies.
"Hearing and seeing how much they'd changed the team they'd built, the culture they'd built, the tech they'd built, but also hearing customers talk about how they're changing their farming systems so that they can use robots…they're actually making investments so that the farm is more robot ready. At that point, you go, "wow, this is actually starting to change the world".
"Having played a small role in that is really cool."
Tenacious about the thesis and team
What does Tenacious look for when investing in startups? At a high level, Sarah says, it's not too different from other investors. But one key point of the difference is how closely the team looks at if the idea aligns to Tenacious' thesis, both from a returns and impact perspective.
"One of the things that is quite different about us is we're pretty thesis-driven. Because we're focused in one sector, we often have thought about or looked at some of these areas or similar areas, or have actually done a structured deep dive to develop a thesis about how value is going to be created and captured, and what kind of technologies are going to scale," she says.
"From there, we look at the kind of company, and the usual: team, tech, traction."
Sarah's team also places a high level of emphasis on the team, particularly given that Tenacious invests early. This means behavioural interviews as well as pitches, in order to understand the humans behind the business.
"I already think VC has too many weird power dynamics where it feels like the investors know all the things and they have the power. Some of the ways venture set up is frustrating, because we want to get to know the humans behind the business and how they think."
It's this, she says, that is often overlooked by founders when they pitch to Tenacious.
"In some ways, founders are almost too polished and have too many answers, when the reality is we're often the first check-in and we know you don't have all the answers.
"We know that your plan is not going to be whatever you have on the piece of paper. We're much more interested in how you think, because you can't plan for everything that happens along the journey. It's how you think, mental resilience, and adaptability that you can't polish."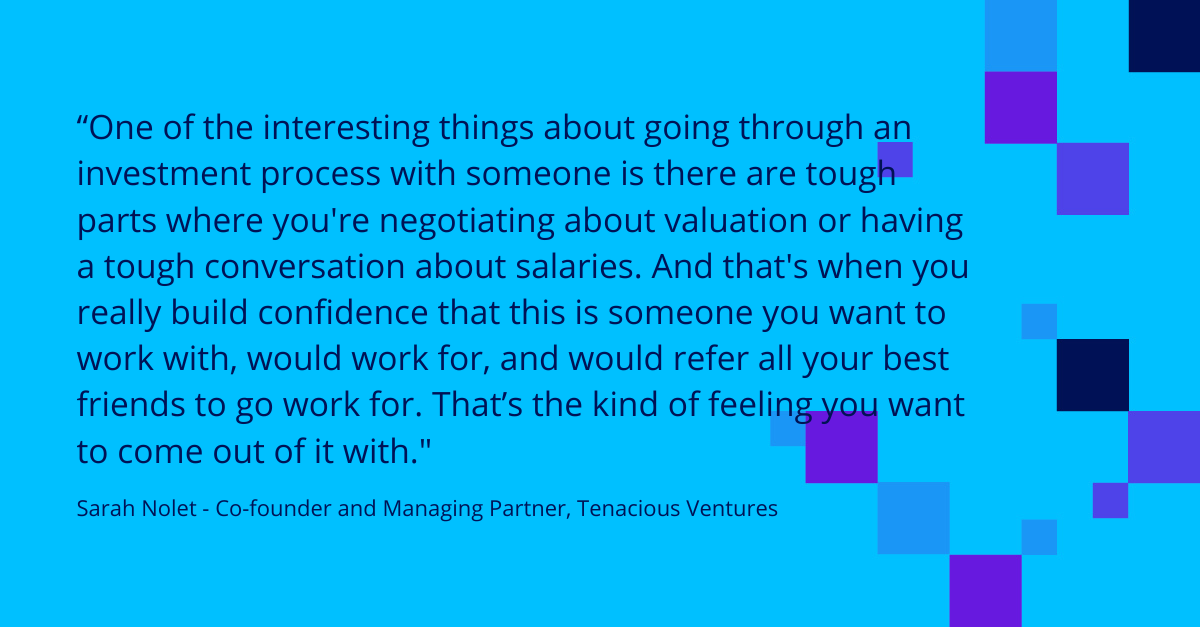 Looking ahead to 2023 and beyond
Despite a tighter capital market, Sarah says agriculture should remain largely resilient in 2023, and for good reason.
"Nature is not paying attention to the economy. You have both this existential threat of climate change and you have natural systems at play. All of that stuff is happening no matter what the markets are doing," she says.
For those who are looking to raise this year, Sarah says it's no different to any other year, except that the timeline will probably be longer.
"The trope of "always be raising" is so true. The idea that you can wait until you're ready to raise, start raising and finish a raise when you want to, is going to be even less true now in tougher market conditions where investors just don't have the same urgency to say yes."
"Good companies especially will get funded, but expecting the same time cycle that you might have had before is one to challenge."
She also reminds founders that, like a job interview, you should always be qualifying your investors
"There's so much narrative around how investors say no to founders, but founders should say no to investors too. They should also be asking about timelines, asking about do they invest in hardware, do they invest at this stage? Have they invested in pre-product market fit? Have they invested pre-revenue? Building the muscle to qualify investors is also really important."
Before we wrap up, we ask Sarah what she would be doing if she wasn't running a venture firm. She smiles and says without missing a beat:
"The part of venture I really like is building the firm, growing the firm, building our systems and processes, being able to expand and grow what we do. And so, if I wasn't an investor, I'd probably be on the founder side of the table."
Find out more about Tenacious Ventures here.